Way back in early November I bought myself a wedding present, or should I say presents, lol, and look, its finally all arrived! This lovely bunch of goodies was waiting for me when I got home on Thursday afternoon.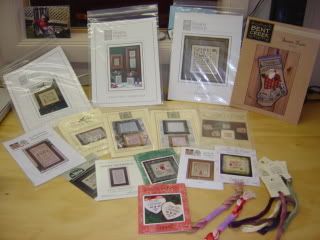 Bent Creek - Santa Train Stocking
Drawn Thread - 12 Houses, Toccatta II, Too Tiny Samplers
GAST Threads - cherub, gecko, red violet, shell, very berry, zinnia
JBW Designs - Sweet Friendship
Lizzie Kate - Here comes Santa, Happy New year, 1st Christmas, Tiny Tidings X
M Designs - letters G & H, K & L
Needle Necessities threads - moulin rouge, hydrangea
Little House Needleworks - Coffee Menu, Kitty Cottage
Glory Bee - Priceless
The Trilogy - Friendship.
This lovely haul of stash should keep me contented for a few weeks but I should confess that I'm waiting for two more orders to arrive!
I also found these pics in photobucket just before. Here is In the Garden of my Heart all framed, and an ornament I stitched for
Karen V
,
Glorybee's
Blackwork Noel freebie.