Happy 2006 everyone! I had very good intentions of posting lots of Christmas pics, and wips pics this afternoon as I haven't felt like blogging much lately, but oh no, it turns out the batteries in my digital are as flat as a pancake, and of course, I hadn't gotten around to replacing the spares, and the shops are shut in my little town for the new year holiday until Wednesday! Nevermind,so I'll leave them for another day.
anyways, we had a lovely Christmas day, spent a little of the day with both my parents and the in -laws and I got truly spoilt with lots of pressies. The week between Christmas and New year was filled with lots of family time and catching up with friends, barbeques, and enjoying this hot New Zealand summer.
I've been managing to get some stitching done in the evenings on Celtic Winter which is progressing nicely and I started a stitchalong with
Carol
and friends for Mirabilia's Mermaids of the Deep Blue on the 1st so that will be my holiday project until I go back to work on the 16th. Then I"ll alternate week about on each, and then work on small projects during the weekend, back to my normal "rotation", lol. My exchange for the SBBE Garden theme exchange is all ready to go in the mail too. I loved stitching it and will have definately restitch it again one day. I'll leave my January goals and 2006 goals for another post as I've spent a bit of time this afternoon working it all out.
I won't be around much over the next ten days or so as tomorrow I'm heading away for a few days to stay with
Kath
and her family in Paraparaumu, which I'm really excited about, and will hopefully get to catch up with Lisa and Pat too while I'm there. Kath and I are going do a little SAL of our own this week on
Indigo Rose's Forget me Nots
, as we've both been wanting to stitch this for awhile.
I get home Friday and then pack up again and head away for the week to take my 12 yr old cousin Kimberley to visit with my aunt and uncle in Palmerston North. Whiel I'm there, I'm hoping to find something really nice to wear to Glenn's brother's Paul's wedding on March 17th,and our friends Craig and Kelly's wedding the next day! Glenn has been asked to be in the bridal party for Craig too. Going to be a full on weekend that one, might have to take Friday, and the Monday off work to recover, lol.
I can now post a few pics of the little gifts I sent out for Christmas pressies, forgot I had them in Photobucket, lol.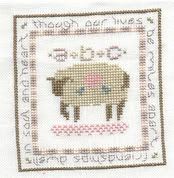 Shepherd's Bush Friendship lamb, finished in a flat ornament for my friend Kath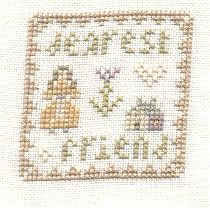 Brightneedle freebie, finished into a scissor fob for a friend.
Catch up again soon! until then, happy stitching!