Here are my ornaments for January, off to a good start so far for 2006.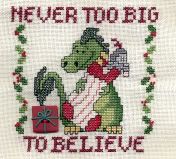 Never too Big to Believe - Dragon Dreams, 2004 JCS Magazine

Christmas Tree - Elizabeths Designs, 2005 JCS Magazine

16th Century Celtic Christmas - Moss Creek Designs, 2000 or 2001 JCS Magazine
This year I'm aiming to spend time on finishing my projects more frequently so I hope to make these ones up during a long weekend we have coming up in early February, along with a couple of other small projects.
Whew, its a hot one out there today folks! Not a cloud in the sky and a very, and I mean very, gentle breeze. Must have hit the 30 degree celsius mark at least. It was back to work yesterday for me after my annual three and a bit weeks holiday. Had a good day but I'm already wishing it were Friday, lol.