Here are the lovely things
Jenna
sent me in the recent Garden Exchange on the
Stitching Bloggers Exchange Board
. You all probably know about my needleroll addiction, lol, so Jenna couldn't have picked a more perfect way to finish her choice, Just Nan's Tall Flowers. Thanks Jenna, it really made my day receiving these goodies.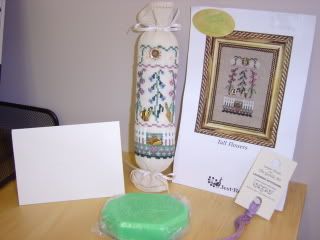 and a close up of the needleroll - I love the little charms on it!
It was a good mail day on Tuesday as I also received some more stash, courtesy of
Kath
whom had ordered these lovely charts for me.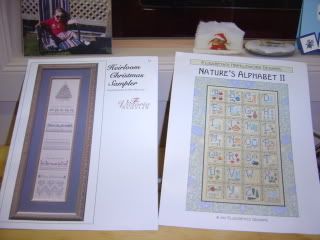 Heirloom Christmas Sampler by Victoria Sampler, and Nature's Alphabet II by Elizabeth's Designs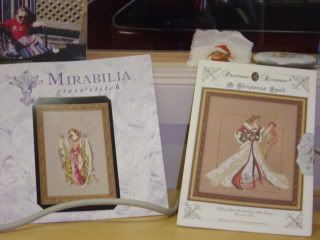 Mirabilia's Forest Goddess, and Passiono Ricarmo's A Christmas Spirit
Carol
and I are intending to SAL together on Nature's Alphabet II a bit later in the year and at the moment she is also trying to tempt me to SAL on A Christmas Spirit!! I don't know if I can fit it in at the moment though, especially since I'm planning to start a baby sampler this weekend,
Sister and Best friends' Birth Sampler Bless
for my dear friend Rebecca and her husband Shaun whose baby is due in about five weeks.
I also really need to get a start on the wedding sampler for Paul and Jude, as their wedding is less than two months away now. I've chosen to stitch
M Designs Celtic Heart
and the letters J & P in DMC 779, a colour I think Jude will really like. I'm just having a bit of trouble on deciding what colour fabric to use. Might have to do some experimenting 0ver the weekend sometime and pull out some fabrics to look at. Any suggestions would be more than welcome.
Speaking of fabrics, I stopped by my LNS during my lunchbreak today and picked up two pieces of Belfast linen, Light Mocha and Antique White, and some 36ct Summer Khaki. Betty, the owner of the shop commented on how "snuffed up" I looked - I've been suffering from a bit of hayfever for a few weeks now, and she recommended I try some natural salts from our local health store. I stopped by there and picked some up and already have noticed a bit difference after only taking two doses. Might be onto something there as with the wind we've been having and it being so dry, I can't go anywhere without tissues at the moment, lol.