While I was away over the weekend two little parcels arrived with ornaments for me: the first one is from
Joanie
, from the
Stitching Bloggers Board
exchange:
Joanie also sent a lovely card, Bent Creek's Winter Snapper and a cute litte snowman. Hopefully, the ornament I sent has reached its destination safely.
This year I also participated in the annual exchange on the
TW board
so I received this cutie from Tami, all stitched over 1: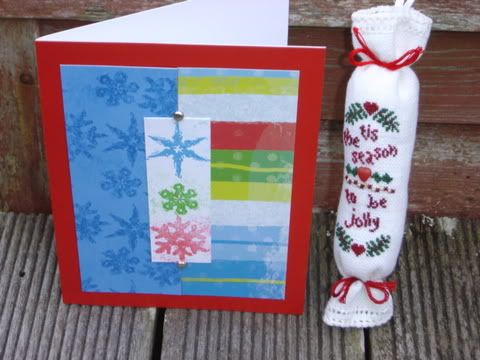 We had a great time away in Taupo, good but also tiring, I was absolutely shattered last night. At this stage our next few weekends are pretty free, amazing for this time of the year, but I've got lots of things I'd like to do around the house - Christmas decorating, finish sorting out the wedding presents, decided on our wedding photos, and of course, getting our Christmas cards and shopping done. This Friday I'm going to take the day off work to go through to Palmerston with Mum and her friend Janet for some major shopping, lol. I'm going to meet up with
Kath
, who is also taking the day off work, for a bit of catch up - looking forward to seeing you Kath :)
So for the next few nights there's going to be some serious ornamentifying going on - I've still got 8 ornies to make up, the problem is I keep coming across more that I'd like to stitch for friends, and think to myself one more and thats it, yeah right!!