I made up four ornies last night, so only four more to go now, lol. The lovely exchange ornament I received from Joanie gave me the inspiration for these ones.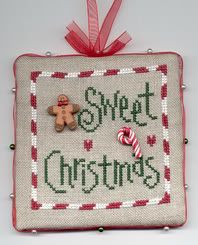 (This one I'd stitched twice)
Lizzie Kate's Sweet Christmas, from 2005 JCS Ornament Magazine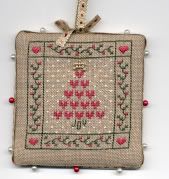 JBW Design's Joy, from an earlier JCS Ornament Magazine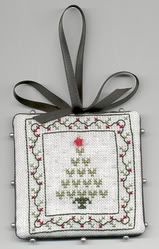 JBW Designs Holiday Heart, from the Holiday Ornamentals Leaflet.
It was a good mail day yesterday too. I received a piece of SMF Serendipity, a ball of 902 Perle 8( for Just Nan's Love letters) and a treat from
Carol
. Thanks Carol:)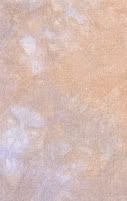 Kath
also sent me an older Hermanson Hardanger chart with some gorgeous ornaments to stitch in 2006. Good news too, I've got two charts on the way from Trademe that a friend had bid on for me, Santa's Magic by Mirabilia, and a Mill Hill Santa one.
Kath, if you are reading this, Happy Birthday my dear friend, I hope you have a wonderful day fill with lots of love and laughter.