Up until the weekend I hadn't really felt very "Christmasy" at all, asides from stitching on ornaments non stop for the past few weeks, lol, but now I've definately got some Christmas spirit going on!!
I took the day off work on Friday and went through to Palmerston North, which is about 1 1/2hrs south of here, with my Mum and her friend Janet, who loves to shop just as much as we do.
Kath
and her daughter Anna drove up to meet us and after a delicious morning tea treat and coffee, we popped into
Needlecraft
for a lookie. Both Kath and I had vouchers to spend. After much deliberating, :), I chose Victoria Sampler's
Friendship Sampler
and
Christmas Virtues 2
, a pkt of Mill Hill beads, a Mill Hill treasure for
Mermaids of the Deep Blue
, and two skeins of Caron Waterlillies. Then we hit the plaza for some serious spending! Later we met my aunt, and Janet's daughter and grandson for a late lunch, and then it was time for Kath and Anna to head on home while we continued on our spending spree, lol. We arrived back in Waipuk about 6.30pm with the car completely loaded fill with lots of pressies and goodies. On the way home we went through a massive thunderstorm, thunder and lightening and the heaviest rain I've ever seen. It had been an extremely hot day back home, in the early 30's degrees C, but the rain didn't come to much there.
I was up early Saturday morning to wrap all the presents while Glenn headed off to our house section to cut more grass. For the rest of the day, I concentrated on finishing the last of our wedding gift thank you's and Christmas cards. I also ornamentified the last of the ornies too, yay, all done! It was another extremely hot day and we heard that it reached 35 degrees C at one stage. Glenn spent the evening watching the New Zealand cricket team beat Australia in a one day match while I tidied up our office/craft room. I also kitted up Mermaids of the Deep Blue which I'm going to start on the 1/1/2006 with
Carol
as a SAL. I just hope I can resist the temptation to start it before then!
Yesterday it was much cooler and overcast so I decided to get all the Christmas decorations and tree set up while Glenn went to the section for the last of the grass mowing. It took most of the afternoon as I just took my time, looking at all the ornaments which I'd received in exchanges over the past few years. Reminiscing you might say. Up until this year Kath and I had been exchanging ornaments every second month so I have some absolutely exquisite ones from Kath in my collection. We've decided to start our exchange again in 2006 which I'm so happy about and have already started putting some patterns aside. Our little NZ stitching group are hoping to choose ones from this year's JCS magazine to work on once a month too.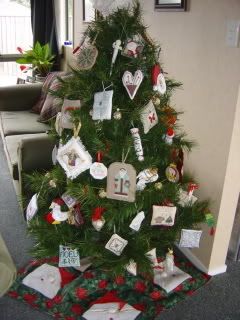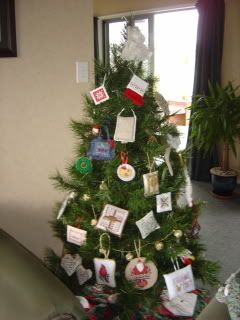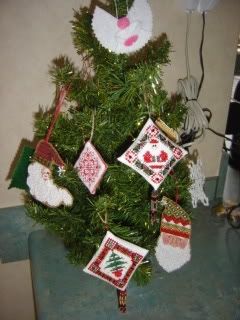 so with the wedding thank yous finished, our Christmas cards almost done, lots of shopping done, and the decorations up, it now feels very Christmasy. This week we have two Christmas parties to go to including one at my work. And its now only a week and 1/2 until Glenn and I are both on holiday - yippee!