Back in early October I bought Elizabeth Design's In the Garden of my Heart pattern, thinking that I'd like to stitch it for Glenn's Mum for Christmas. I made a very small start on it before our wedding and then picked it up again last week. Here's my progress so far.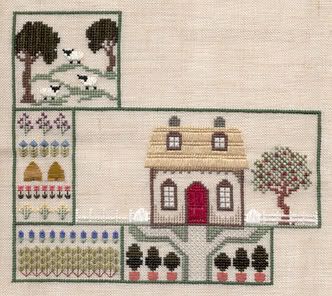 Its a lovely stitch but then aren't all the ED patterns, lol. I'm becoming quite a fan, thanks to my kiwi stitching friend
Lisa,
after seeing a couple she has stitched. I'm using 32ct lambswool linen which I'd never stitched on before and after getting used to the stiffness of the fabric, I think I quite like working on it. My other wips, Celtic Winter, Elisabeth's stocking and Noah's Sub haven't been touched in so long, oh well, my annual summer vacation is just around the corner.
Last night I "ornamentified" a couple of ornies I'd stitched a few months ago, one for the
Stitching Bloggers Ornament exchange
, and one for the annual ornament exchange on the
Teresa Wentzler
board. Will be able to share pics a bit later in the month once the recipients receive them. I have several other finished ornies to make up which I hope to do over the next fortnight and I have yet to stitch one out of this year's ornaments magazine - usually by this time of the year I've stitched at least one, lol.
oh yes, does anyone know of any up and coming sales at any of the online LNS's - I can feel a bit of splurge coming on, I know I shouldn't but it will be my last treat of the year, lol.