thanks everyone for your welcome back comments - I missed you all too, and the first thing I did after turning on my computer was to check out all your blogs to see what you'd all been up too, lol.
Glenn and I flew to
Rarotonga in the Cook Islands
on the evening of Tuesday 25th October, and arrived in the early hours of Tuesday 25th Rarotonga time - its 22 hours behind New Zealand. When we arrived at 3.30am it was 24 degrees C, and most days the temperatures reached at least 28 to 30 degrees C, very hot!
The view from our beachfront appartment room at the Edgewater Resort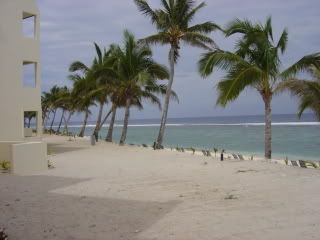 On safari!
Enjoying Cocktail hour!
Beautiful flowers everywhere
View over Rarotonga from a lookout point
Our last Sunset in Rarotonga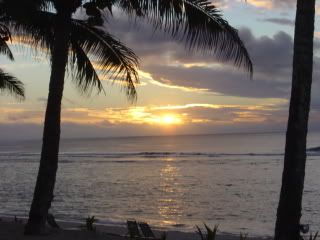 The happy, relaxed but very sunburnt couple!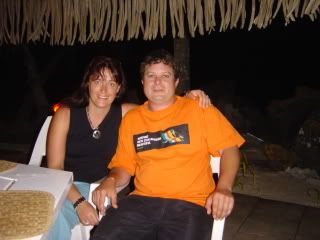 Glenn and I would go back in a flash if we could and we're already planning our next visit there hopefully to celebrate our 2nd wedding anniversaty in 2007. We spent the week swimming, snorkeling, sunbathing and exploring the island. If you are after a totally relaxing vacation then the Cook Islands is the place to go - they use NZ currency, have wonderful fresh fruit and vegetables, very friendly people and you choose to do whatever you like - if you want to chill out on the beach or to go on fishing trips and tours, there's no one pushing you into anything. No hustle and bustle, hardly any shops (definately no stash shopping, lol) - just pure relaxation in paradise!