Hi folks, we're finally back to our "normal" lives, lol, and boy, does it feel good. We arrived back from honeymoon last Tuesday evening (I'll blog about Rarotonga later) and Glenn went back to his work Wednesday. I spent a day getting our house back into some sort of order, and then went back to my work on Thursday.
Here's a few more pics for you from our wedding, this selection is from our official album.
Signing the Registry
Cutting our cake (carrot one layer, and banana one layer)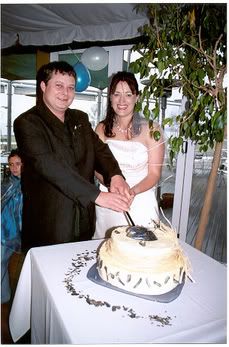 At long last, Mr and Mrs Jamieson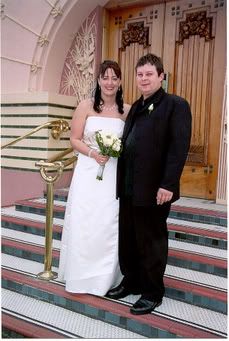 The Girls - myself, Rebecca(friend), Donna,Kimberley, Odette (my cousins) and my niece Zoe
Close up - dress and flowers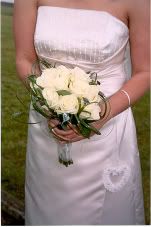 It was such a wonderful day and everything went without a hitch, apart from a few drops of rain. Our ceremony was conducted half outdoors and half indoors! We had a great time catching up with our family and friends, many whom had travelled a long way to be with us. The dancing finished at 1.15am and Glenn and I were dropped off our motel at 2.00am. The next day, after having brunch with friends, we headed on home. That was when Glenn surprised me with our airline tickets toRarotonga. I had no idea but I've since found out that almost everyone at the wedding was in on the secret!
Heather and Cliff, Glenn's parents, hosted a barbeque for us on Sunday, where we were able to spend time with family and friends once again before many of them left to head home. We also opened our wedding gifts. Oh wow, is all I could say. We received some truly beautiful gifts including a gorgeous Lori Birmingham sampler stitched by my very special and dear friend,
Kath
. I burst into tears upon opening it as I was completely blown away by how beautiful it is, and I know how many long hours Kath has spent this year on it. Hugs to you again Kath. Glenn and I are going to have a lot of fun deciding where all our gifts are going to go, perhaps we'd better start building that new house sooner than we think!