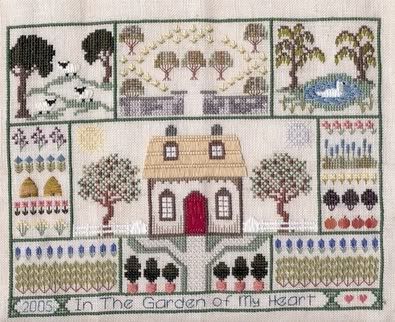 In the Garden of My Heart - Elizabeth DesignsStitched on 32ct lambswool linen using mixture of DMC and Weeks Dye Works threads.
I finished this earlier in the week and like I mentionned in Sunday's post, I have been working on some Christmas gifts for friends, so sorry, can't share any pics, lol. I received my recent order from
Countrystitch
on Tuesday - a piece of New Dawn Kiwi Illusions and some Weeks Dye Works threads for my collection. The fabric is for
Rose Celebration by Mirabilia
.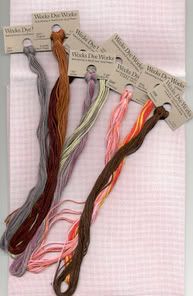 Plans for the weekend - tonight we're going to the local Sports Awards as our business is sponsoring an award, Saturday night my niece Zoe is coming to stay and then on Sunday afternoon I'm taking my cousin and a friend to see Harry Potter and the Goblet of Fire at the movies. Monday will be here again too quickly, lol.
enjoy your weekend everyone, especially if its a long weekend. Happy stitching!