I've just had the lovliest weekend at the stitching get together. Not only was it filled with lots of chatting, laughter, friendship and happy times, I actually gots loads of stitching done :)
My friend Wendy picked me up about 10.45am on Friday and off we went. Our first stop was at
Palmerston North
to meet up with my aunt for lunch. Her Mum came with us too. Had the nicest iced coffee at one of the cafe's and lunch before having a wonder around some of the shops. I was very restrained and only bought one thing, a small basket with a handle that you can carry cutlery, etc in and put on a outdoors table when we have a bbq - I'd been wanting one for ages.
We headed off from Palmy about 3ish and arrived in
Paraparumu
about 4.30pm to the holiday house we were staying at for the weekend.
Kath
had already arrived and was waiting to greet us. After chatting for a bit, we jumped in Kath's car and zoomed around to where Kath and her husband have just started building a new house as well as dropping by her house to pick up a few things - more extension cords and stitching lamps, lol. It was great to catch up with Kath's husband and daugher too. We decided on chinese for dinner and it was yum! Later on
Lisa
and Pat came around to the house and the fun began!! We spent several hours drooling over one another's newly completed projects and recently acquired stash. I think some of us did a little bit of stitching too, lol.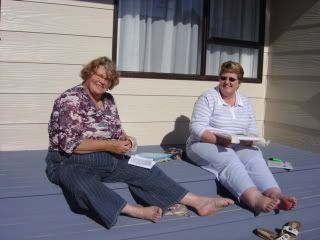 Wendy and Kath, enjoying the sunshine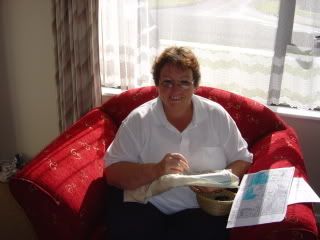 Pat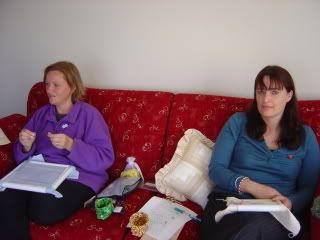 Lisa and Katrina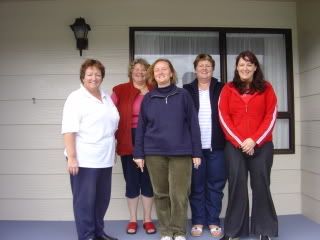 Saturday we headed into town for a spot of shopping, and after picking up some lunch our afternoon stitching session began. It was perfect bliss, sitting there stitching away and chatting. I honestly can't remember when I last stitched the afternoon away on a Saturday. We decided to go for chinese for dinner again, how could we not, it was absolutely delicious, and then sat down for some more serious stitching. About 9pm Kath remembered that we hadn't exchanged our friendship gifts so everyone disappeared to get them from their bags. While I was sitting there innocently, little did I know that they had all been plotting and they threw me a little bridal shower!! It was so funny, and here's a pic to show off their antics: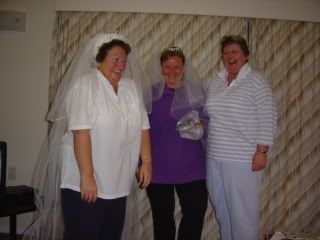 thank you ladies, you really made my night, and thank you for the lovely gifts too.
here's a pic of all of our exchange pieces, aren't they wonderful?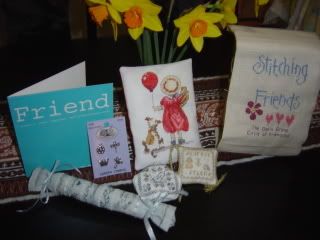 Lisa brought along her folder of the Drawn Thread patterns and oh wow, I've got to get me some of those, lol. I also had a rethink about the piece of fabric I'd picked for
Celtic Winter
and after admiring Lisa's piece of
Riverstone
that she has chosen for Celtic Summer, I'm going to place an order for some from
Countrystitch
this week. I had planned to start Celtic Winter during the weekend but nevermind, I'm pleased with my decision. I'll also order some
Kiwi
for Celtic Autumn while I'm at it.
As well as our exchange pieces, Kath also gave each of us a small gift - a small ort bag. They are the cutest wee things, isn't she clever?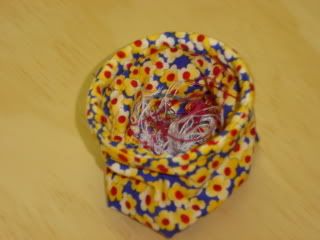 Sunday morning was spent chatting, tidying up the house, and saying our goodbyes - it seemed like no one wanted to leave. Not too worry, plans are already being made for 2006's get together!