Here's two recent Christmasy finishes: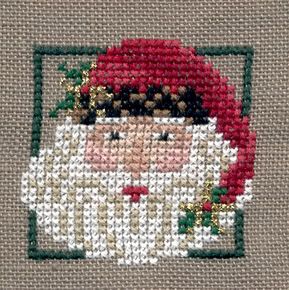 Jolly Old Elf by
Just Nan
, stitched on Cobblestone linen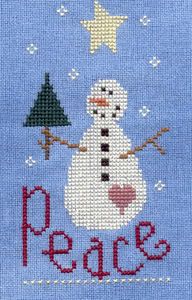 Peace, a freebie by
4 My Boys
, my choice for the recent freebie SAL on the
Needle and Thread board
, stitched on a piece of 32 count Kiwi Illusions.
Last night I made a start on September's Ornament choice, Christmas Kitty Moon by Stitchy Kitty.
I didn't set any goals for August but here's a recap of my progress:
Finished
"Meow Spoken Here" - Stitchy Kitty
Celtic Band Sampler - Homespun Samplar
A Merry Tree to Thee - Full Circle Designs
small gift for retreat exchange
Jolly Old Elf - Just Nan
Peace - 4 My Boys
I also started Winter into Spring - Drawn Thread and stitched a few hours on Noah's Sub
Goals for September
Start Celtic Winter SAL with blogging friends
Noah's Sub SAL with Dani
Lizzie Kate's Santa's Wish List
Two Christmas Ornaments
Finish Winter into Spring
In a few hours time my friend Wendy is picking me up and we're off to Paraparaumu to meet up with some other stitching friends. Its about a 3 hour drive away and we're planning to stop for lunch in Palmerston North to meet my aunt. Glenn is also going away this weekend, to Auckland for a few days to watch the NZ All Blacks rugby team play Australia. So folks, enjoy your weekend, and take care! Will be back soon!