On the weekend I started and stitched most of the Santa's Wish List so I finished it last night and found some buttons for it: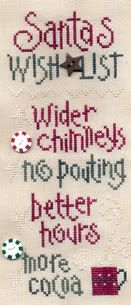 Santa's Wish List - Lizzie *Kate, stitched on 32ct fabric.
I plan to finish it as a bellpull but like all my other recent finishes for now it will go into the folder :)
I received October's Just Cross Stitch magazine in the mail yesterday from
Carol
: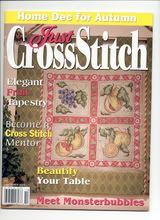 It has a gorgeous autumn design in there by Jeanette Douglas and I noticed there's a sneal peek at a couple of the ornaments to be in this year's Ornament issue. Not long now until it comes out!! Thanks for the trade Carol - it will quite a few weeks before we see it here in NZ.
Wedding Update
- as you can probably guess, a lot of my spare time is pretty tied up with wedding things at the moment, there's now only 7 weeks to go. A couple of minor details have been sorted this week - Glenn's best man, who lives in Aruba, has emailed his measurements for his suit; my cousin in Melbourne has been able to find a dressmaker to make her bridesmaid outfit and not charge a too high cost for it and she has also found some shoes for the other bridesmaids; I have been back in touch with a family friend who is making our cake and he has come up with several great ideas; this weekend we hope to go to the wedding venue to sort out a few details; and we're starting to get lots of RSVP's, yay!