Here's my choice for September's Christmas ornament: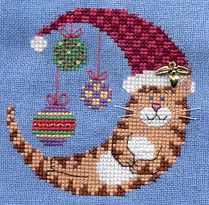 Christmas Kitty Moon - Stitchy Kitty, stitched on 32ct lugana Kiwi Illusions, colour unknown
.
It was a fun and quick stitch. I was just about to start the next small project on my list for September last night, M Designs' Little Pink Houses, when my friend Rebecca called from Sydney. It was a nice surprise and we had a good catch up as well as talking about wedding plans, and baby things (she's due in late February). I'll get to see her in only a few weeks now as Bec is one of my bridesmaids.
While I was on my way to work this morning, I was thinking about setting up a new stitching rotation. (I get alot planned between 7.50am and 8.10am in the mornings, its a good time to think and clear my head before arriving at work, lol.) So here's what I'm going to put into action starting tonight:
Weekly Rotation:
Wednesday's
- Noah's Sub SAL with Dani
Thursday's
- Drawn Thread and Just Nan projects night - starting with continuing on Winter into Spring
Friday's and Saturday's
- small projects (ornaments, gifts, etc)
Sunday's - Shepherd's Bush Stockings (half way on "Elisabeth" and would really like to stitch "Sophie" before Christmas
Monday's
- Celtic Winter SAL with Carol and friends
Tuesday's
- free night to work on any of the above.
Sound good? Of course, this may go all out the window as we get closer to the wedding, lol. But I know I might need my stitching to keep me sane and calm, ha ha.
Its been another lovely spring day. The tv weather news reported last night that we are going to have a mild spring this year - sounds good, so far it has been. If only we could put an order in for a good day of weather for the 22nd October, lol.
Off for a walk now, take care & happy stitching.