Monday again already? I really wish these days would slow down a bit, lol. Lots of "bits and pieces" to report about today.
On Friday night I went with my parents to the wedding venue, East Pier, to meet with the manager, Dave, to get some details finalised. They have changed their menu, which I thought may have been the case as they have a new head chef, and its really nice! Simple but lovely. We organised the alcohol and nonalchol drinks, setting up, how the wedding reception will run, a plan "B" incase the weather isn't too good, and lots of other minor details. I can say that both Mum and I came away feeling like a lot of pressure had been taken of us. On Saturday I went out again for the day with Mum and Dad (Glenn was working so couldn't come with us) to purchase some very special wedding "supplies" from the
Paua Shop
, which is about a 2 hour drive south of where we live. Some more items crossed off from my "to do" list. It was a lovely day out, Mum and Dad enjoyed themselves and it was nice to spend the time with them. The drive itself was really nice through the
Wairarapa
- farming country, lots of little lambs in the paddocks, very lush and green although you can tell there's not been alot of rain there lately.
Look what we found along the way, lol.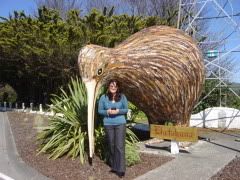 Glenn had mentionned he was hoping to get our barbeque out and give it a good clean on Saturday so we had our first bbq for the season on Saturday night - steak, lambs ribs and salad - my favourite!
Yesterday I spent most of the day giving the house a good going over since I had only vacumed last weekend. In the afternoon Glenn and I went to the garden centre and purchased 7 trees for our remodelled garden and some pansy, lobelia and petunia seedlings to go into pots on our decks. Of course, it wasn't until I got home I realised that we didn't have any potting mix, lol.
I received the piece of Riverstone from
Countrystitch
over the weekend too. It was alot greyer that I had anticipated which Linda had mentionned in her email to say it was on its way. So after contacting Linda, she is happy for me to return it for another colour choice or I can let her know a DMC number which she will try to match. Great service huh. But it looks like it will be a few more days before I can start the Celtic Lady SAL.
Over the past few days there hasn't been a lot of stitching going on, but I have made some good progress on Winter into Spring and I also have a new start, Little Pink Houses by M Designs. I chose to stitch on this last night instead of the SB stocking as Glenn and I went to my parents for dinner and by the time we got home it was much easier to work on it rather than get all the other supplies out for the stocking.
I also received the name of my Christmas ornament recipient from
Karen V
on the weekend which is cool as I've already decided what to stitch. Apparently the 2005 Just Cross Stitch ornie mag is due out very, very soon too so I can't wait to get my hands on it now.
Tonight I'm going to be Noah's Sub-ing, will be back with a progress pic tomorrow.