Thank you for the comments on Christmas kitty moon , I really appreciate it :) As its Thursday and that means its Drawn Thread projects night, I thought I'd share the progress so far on Winter into Spring. Not such a good scan today, not sure why that is, but you can see I'm well over half way. That has got me thinking about which of my Drawn Thread's are going to be up next - I've got Welcome Spot kitted up so that just might be on the agenda next.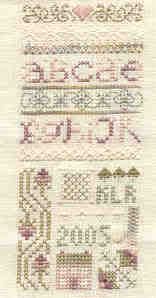 For the past three nights I've worked on Noah's Sub and made some good, but slow progress, in a week or two I might even have one page out of the eight finished, this is one design that is going to be in my rotation for quite some time, lol. Linda from
Countrystitch
has been practising some colours for my Celtic Winter fabric so I'm looking forward to seeing how they turn out. She has also told me that she has been trialling some new colours especially for the
Mermaids of the Deep Blue
. Oh no, that could be dangeous as the pattern is due here any day in my recent order from
Needlercraft Corner.
I got a surprise in the mail today, something I had completely forgotten about, from my not so close lns, Heirlooms. Its the embellishment pack for
Just Nan's Four Wishes
, cute little charms including an umbrella, so cute.