I thought it was about time I posted some newer pics of my Wips, I should be going out for a walk but its not too pleasant out there today. We've had some fairly rough weather over the past few days - Saturday it blew an absolute gale, quite scary, and then Sunday it poured down on and off again all day. We've had national weather warnings for snow to low levels too. Oh, the poor little lambs out there :(
Last night I finally got around to picking up Shepherd's Bush Elisabeth's stocking which I'm intending to have stitched and finished for my niece Zoe for Christmas this year. I'd forgotten how much I enjoy stitching with the pearle 5's, quick to stitch with too. I've decided to spend an extra "night" on this tonight to get some real progress made.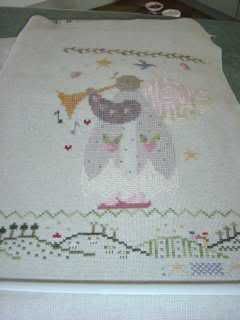 stitching this on 18ct floba
next up is Noah's Sub
M Design's Little Pink Houses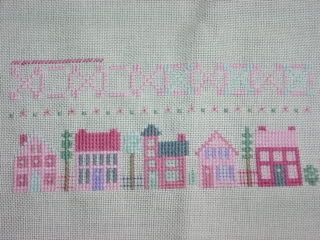 32ct waterlily joblean
Originally I thought I'd make this into a needleroll but I'm now thinking I might frame it and give it to my Mum for Christmas this year.
And my fabric has arrived for Celtic Winter - wahoo, so I'm intending to make a start on her Tuesday.