For those of you who wanted a closer look :). This invite was the draft copy, hence the "PTO" written in pen on the bottom, lol.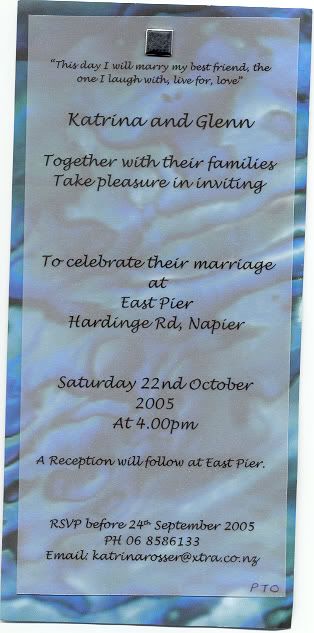 Not much going here this week, although it certainly seems to be flying by. I've been interviewing potential candidates for the vacant position at my work and so far two of the people have been highly suitable, one interview to carry out on Wednesday.
I've managed to get in a few hours stitching the past few nights which has been great - The Jolly Old Elf is finished, a quick stitch and so cute. Because I don't have one of the Whimzi Just Nan frames I'm going to use another small gold frame for it. Tonight I hope to finish the freebie I chose for this month's freebie stitchalong on the Needle and Thread board so will share a pic soon.
I see that Stitching Bits and Bobs have another sale so I'm very tempted to stop by there later and pre-order the new Mirabilia, Mermaids of the Deep Blue. Umm, maybe I'll wait a bit longer as its not like I want to stitch it right now, lol.
Its been another beautiful day here so I think I'll make the most of the sunshine and head out for a walk soon. Take care!