here's my very first progress scan of Celtic Winter so I've officially jumped on board the
Celtic Ladies SAL.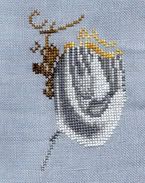 that's the sleeve of her dress and the start of her hair, lol.
now to answer a few questions left here recently - Carol - you are a bad influence on me, lol. Yes, let's start the Mermaids, howabout next week? I've been meaning to ask you, did you find that extra day in the week for us :)
Danielle - yes, I will do the finishing on Elisabeth's stocking. Earlier in the year I made up two other SB stockings and even though it was quite nervewracking, they turned out ok.
thank you to everyone else for your comments too, they mean alot to me.
well, thats me for today. Glenn and I are meeting with the marriage celebrant a bit later on this evening, how exciting. As of today its only a month to go!!