Here's a little progress on Drawn Thread's Winter into Spring. I really love the colours in this piece, so delicate.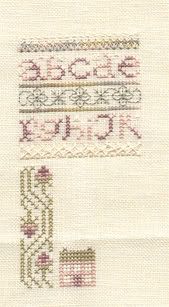 Last night I stiched and then made up my friendship exchange piece, I might have to make some more like it for Christmas gifts. You'll have to wait until after my stitching retreat next weekend for a pic, sorry!
I'm going to start kitting up some smaller projects tonight that I've been thinking of stitching for ages to have ready for the retreat. Because I'll have trouble deciding what to take with me, I'll probably end up with at least 10 projects in my stitching basket, lol.