A big thank you to everyone who left a comment about my Celtic Band Sampler, I truly appreciate your thoughts and of course, I love sharing my finishes with you :)
Here is my choice for the
Retro Ornie RR
that's to start very soon. From the Just Cross Stitch 2002 Ornaments Issue, Full Circle Design's A Merry Tree for Thee: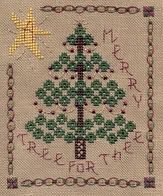 Stitched on 32-count dirty Belfast linen using DMC Threads, Mill Hill Beads and Kreinik Very fine braid.
I learnt a totally new stitch on this one, the Guillioche stitch, which is the looped border. A bit tricky, lol. Hope the other stitcher's in the group don't mind stitching the 40 odd eyelet stitches! I thought I might finish this into a boxed ornament but for the meantime it will go into the folder with my other unfinished ornies for 2005.
Now I can make a start on my friendship exchange choice which I hope to do tonight, a quick stitch hopefully. I've also stitched a little bit more this week on Winter into Spring so hope to have a pic to share of my progress tomorrow.
Dani
and I are going to start a Noah's Sub SAL in September, if anyone would like to join us. We are both going to choose one night per week for our SAL so I'll slot it into my weekly rotation where Celtic Band Sampler was, Wednesday nights. Feel free to leave a comment if you wish to join us.
I'm feeling a bit under the weather this week - not sure if I have a bad cold or its allergies from all the spring pollen in the air. Could be a bit tired too as there's been a lot of wedding organising going on over the recent week. Glenn and I have our first meeting with our Marriage Celebrant in a few week's time and we even have some "homework" to do before then. Glenn thinks I'll be doing his, but no way, lol. All the invitations went in the post today too.