Finally! I got the last band finished on the Celtic Sampler last night at about 9.30pm! As regular readers here would know, this has been a stitchalong with
Dani
and
Carol
over recent months. Dani finished hers recently and Carol, who started a few weeks later than us, will have her's done in no time I'm sure. So here it is (its quite large):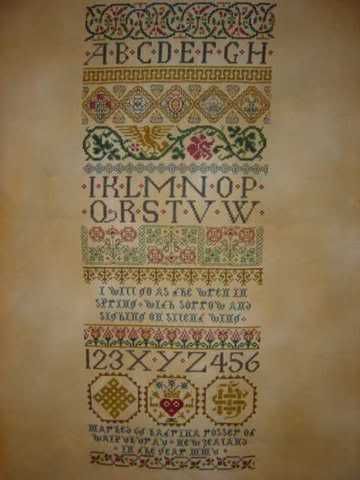 The Celtic Band Sampler by Homespun Samplar, stitched on 32ct Kiwi Lugana by Countrystitch
So with this finish last night, I now only have three WIPs - Winter into Spring by Drawn Thread, Noah's Sub by Stoney Creek, and Elizabeth's Stocking by Shepherd's Bush. I'd like to concentrate on making a dent in these but in the next few week's I have two Christmas ornaments to stitch, one friendship gift and also I'm starting another SAL of
Celtic Winter
with Carol and several other stitching bloggers in September. My mind has also been working overtime thinking about what Christmas patterns I'd like to have done by December. I tend to do this at this time every year and then the new Just Cross Stitch Ornaments issue comes out and all those well intended plans go astray, lol.
I can also say today : They are finished! The wedding invitations that is, all made and now I can starting writing them out to get them in the post early next week. Several overseas friends have asked about seeing a pic of how they've turned out so I'll add a pic here sometime next week. Other wedding news: this week I have spoken to a friend who is going to make our wedding cake and shown him some photos of what we'd like so he will get back to me with some ideas soon. I've also posted off fabric and patterns to my two bridesmaids in Australia so they can each get on and find a dressmaker to make up their dresses. Until I hear that it arrived safely, I'll keep my fingers crossed. I also bought a new strapless bra this week as I'll be going to have my dress altered in a few weeks time. On Monday it will be exactly two months to go!
Its my Mum's birthday today so I'm going out to dinner with Mum and several of her friends tonight, a ladies night out, lol. She loved her birthday present, a DVD player, which my Dad, brother and niece, and Glenn and I put in to buy. Happy Birthday to my lovely Mum, love you lots!