I've been happy dancing as the Emerald Mermaid is all finished! I stitched the final beads on yesterday and after thoroughly checking that I hadn't missed any stitches, here she is, all washed and pressed: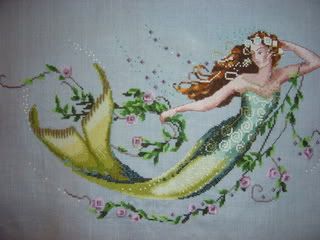 Emerald Mermaid by Mirabilia, stitched on 32count Rue Green Belfast linen, Mill Hill beads substituted for Delicas (thanks to Karen from Dragonfly Dreams)
I've just had the most relaxing weekend in a long time. On Friday night I met up with Glenn and some of our friends for drinks and then we took home burgers for dinner -yum! Saturday was spent catching up all the usual around the house jobs, with some stitching and reading in the afternoon. I can't remember the last time I sat and read anything on a Saturday afternoon asides from the Saturday paper! On Saturday night we went out for dinner with our business partners, our employees and their wives to celebrate 3 years of being in business - hard to believe really when I think how fast those 3 years have gone by. Then yesterday was a fairly quiet day too - the weather was typical winter's day, wet and cold. Glenn watched sports on tv and I stitched again. We only ventured out to get the weekly groceries.
I had some great news last night too: my friend who lives in Sydney and is coming home to be one of my bridesmaids in October, has just found out she is having a baby. Awesome news! My mind has already been working overtime thinking about all the baby things I can stitch for them. It must have been the night for international phone calls as not long after I had finished talking to Bec, another friend called me from Sweden!
Off now to work on this month's Christmas ornie choices -
Santa's Fill
by Shepherd's Bush, and December by
Elizabeth Designs
from the Year in Stitches booklet, before going out to my Monday night embroidery group.