July's ornies are all done, I just need to find a small charm for the centre of "December".
Santa's Fill by Shepherds Bush, stitched on 32ct Natural Belfast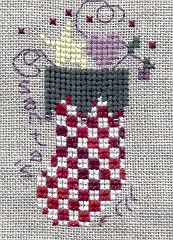 December from A Year in Stitches by Elizabeth's Designs, stitched on 32ct Natural Belfast. edited to add, I've just noticed the loose thread :(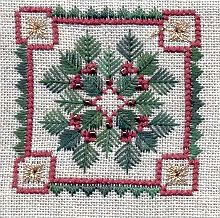 Because I had a late night home from work last night and couldn't be bothered getting anything out to stitch on, I decided to make up the Lady Bug Roll which I had stitched earlier in the year.

Tonight its back to work on Celtic Band Sampler, my SAL with Dani and Carol. I don't think I've touched for well over a fortnight.
I went to my LNS today to look at suitable dress patterns for my niece Zoe as she is going to be the flowergirl at our wedding. A friend of mine has offered to sew her dress for me which is great as I certainly could make it myself but don't want to add any extra stress incase I get behind in my other "tasks". I've made a decision this week to giveaway my Monday night embroidery group until after the wedding. As much as I love it, and are going to miss not going, it will give me one extra night a week to put aside for any wedding jobs. I'm going to make a start on our wedding invitations soon and even though the design is nothing complicated, the cutting of the papers and actually putting them together is going to take considerable time. I've booked in with work to have a Friday off in a couple of weeks time to spend the day going through all our lists and things to do, and just basically checking that everything is done. Crikey, I'd hate to think we may have forgotten something, lol. On Friday the 22nd, its exactly 3 months to go!!