Over the recent weekend I got my sewing machine and overlocker out and spent several hours sewing up some of my recent finishes. Of course, as soon as I decide to do this, the overlocker decides to play up! So after several attempts of getting it going again, off it went to a friend for a small fix up job. Here we are, some cushions to share with you.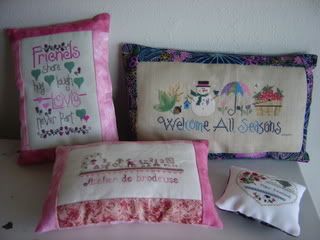 I feel like I haven't been very chatty on here as of late, or spending much time visiting all my favourite blogger friends' sites, but there's been a lot going on with my work, as well as at home lately and several times I think oh I must blog about and there's no time to actually do it. In summary, over the past two weeks:
Workwise
- one of my staff members and a client were involved in a car accident and luckily no one was hurt but our centre van which is an essential part of our service has been written off. Just as well we have insurance;
- that same staff member resigned at the end of that week, not because of the accident, but he had another job offer and he finished last Friday on one week's notice! M and I have worked together for over 9 years so I will miss having him around. But this has meant that until we find a replacement (not such an easy thing to do in the disability service sector) I have had more added to my workload;
- July is always full on as its the start of a new financial year therefore a new funding round begins. Lots of reports to do as well as new funding applications.
At Home
- our business is really booming at the moment so the more work they put through the joinery facory, the more paper work I end up with. This can take up several hours each night
- The Wedding - now we've hit the 'only three and bit months to go' mark, all of a sudden there's lots to do again but hey, thats fun.
- my parents are on the move again which has been stressing out my mum to the max so I've been helping here out where I can.
- an overseas friend has been seriously depressed over the past few months and I think this has been on my mind too.
On a more positive note, I've spent the past three nights beading on Emmy and I'm almost there! Then its the backstitching to do. Sorry I don't have a pic to share today as my batteries in the camera need charging. Isn't it funny how when the end of a project is in sight, how your mind goes into overtime thinking about what to start next!! I'm leaning towards L& L's Celtic Autumn at the moment using a conversion of oranges and greens. I've also been fabric searching on the net this week for suitable fabrics for Celtic Winter, Titania and Enchanted Mermaid so maybe I'll just have to break my "no more stash until after the wedding" rule and place an order next week, lol. I need to kit up this month's ornament choice too as well as Brightneedle's Pretty in Pink.
I think I'll finish here with a recent photos of my niece Zoe, she really is my little Sweetpea, lol.