Last night I put the final stitches into Atelier de Brodeuse - the Stitching Room, a kit by french designer Au Fil des Reves. This was a pleasure to stitch and I have to say a special thanks to
Karen V
for enabling me on this kit!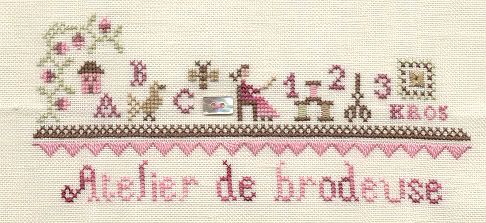 This was also the first time I have stitched on 40 count, so that was an interesting experience. I'm not about how I'll finish this - I'd like to frame it but I would also like to have a go at hemstitching the edges on it and then place onto a framed mat - that sounds double dutch I know! LOL.
Next on the agenda is my ornament for June, Hope by M Designs. I actually made a start on it last month so I should have it done over the next few nights. This one is going to be for Glenn's mum.
Speaking of ornaments, have you seen that
Needlecraft Corner
have a pic up on their site of this year's
Just Cross Stitch ornaments magazine
? I'll be definately putting in a pre-order for this one soon - looks like there is some great ornies for this year. Its one of my yearly stitching highlights, getting the magazine in the post each September. I usually then spend hours reading it, writing up supply lists and which are "must do straight away" ornies.
And I have a bad clickie finger - I gave into
Stitching Bits and Bob's
current sale and placed an order for a couple of charts and some 28's Piecemaker needles. All of a sudden all my needles seem to have disappeared! I ordered
Celtic Winter
,
Pretty in Pink
and
Sampler Girls
- all of which have been on my wish list for a few weeks after spotting links on
Carol's
blog!
Looks like its going to be fairly busy weekend for Glenn and I. I'm meeting Glenn after he finishes work today to have drinks and dinner with some friends, then Saturday morning Glenn is working and I'll be there too as its time to get everything in order for the accountant. I've promised my Mum I'll help her with a couple of things Saturday afternoon so that will then leave Sunday to fit in the usual housework, washing and the grocery shopping, and of course, several hours of stitching.