Last night I put the final stitches and beads on JBW Design's A Christmas Tree Sampler and here's a pic: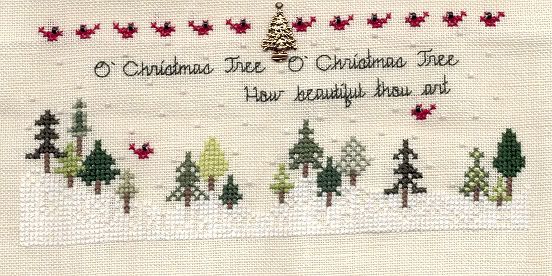 (Stitched on 32ct Belfast linen, DMC threads)

Quite appropriate at the moment as its midwinter here in New Zealand and lots of people are celebrating with midwinter Christmas dinners. We're going out to one in a few weeks time.
I was the successful bidder on this issue of Cross Stitch Crazy at the end of last week on
TradeMe
. As soon as I spotted the free Strawberry Shortcake cover kit I knew I had to have it, lol, as my 4 1/2 year old niece Zoe loves Strawberry Shortcake. When the magazine arrived on Saturday I was pleasantly surprised to see it also has a
Lizzie Kate
design in there too.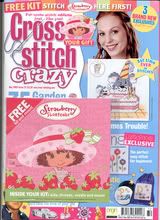 Glenn and I had a fantastic time in
Napier
on the weekend. We were invited to attend a function put on by one of the building supply firms we deal with. Our accomodation was at one of the newest motels in Napier overlooking the sea, and dinner on Saturday night was at a local winery. We also got to watch the All Blacks versus the British Lions rubgy game - go the All Blacks! The British Lions rugby team have been out here for several weeks now, playing our provincial rugby teams and have two more test matches against our All Blacks to go. Its a good week for sports as the New Zealand netball team, the Silver Ferns are playing against Australia tomorrow night.
Tonight is my monthly cross stitch group get together and as its usually Celtic Band Sampler SAL night I think I'll work on it. I don't think we'll get too many people turning up unfortunately as its been absolutely freezing here for the past few days.