Last night was my Celtic Band Sampler SAL night so while I was watching
Charmed, Medium
(which I'd taped from the night before) and then
Lost
I happily stitched away on CBS. Sorry folks, not such a good pic today.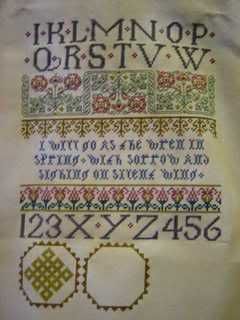 And I had to a bit of reverse stitching to do too - thats what happens when you get too engrosed with the tv, lol.
This afternoon was an afternoon out for my clients and they choose to go and see
Madagascar
at the movies. What a laugh, it was great to hear them all chuckling away. A fun movie thats for sure.
I've found a new project that I'd like to start soon,
Just Nan's Four Wishes.
I had forgotten all having the pattern for it until I was browsing the Just Nan site the other day. So I'll be phoning my not so close LNS tomorrow to order the embellishment pack for it which has the cutest little umbrella and bee skep in it as well at the beads for the pattern. I'm debating whether or not to actually set aside one night of the week to stitch all my new JN's - Baby Garden, Love Letters, Peacock Cypher and now 4 Wishes. Perhaps I'll wait until I get a bit more done on all my WIPs first :)