Thank you to everyone for your wonderful comments about the exhibiton! Several of you have mentioned about wishing to see closer up pics - I do have some so I'll add them to my Webshots album over the weekend sometime for closer viewing!
Last night I stitched on CB Sampler while watching the
Two Brothers
dvd - which is about two tiger cubs separated from each other, and are then reunited later a few years later. A good family movie and if I hadn't been so engrossed with my stitching I'm sure I would have had to get some tissues out!
here's my progress so far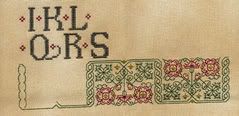 I'll come back to rest of the blackwork band next week I think.