Firstly, thank you to everyone who left a comment for me about my little pin cushion - I really appreciate your thoughts on my stitching. If anyone would like the pattern, it is a freebie which I received directly from Indigo Rose, along with several others, when I emailed Catherine Strickler. Sometimes the designer freebies are hard to get a hold of here in New Zealand and the couple of times that I have emailed directly to the designer, they have only been to happy to send them to me - awesome huh?
Danielle, I haven't taken a class in how to make the pin cushion but "devised" my own way of making them. Whether its correct or not, I wouldn't have a clue! I've also picked up several great tips at
the Legacy Board
on how to finish them.
This weekend seems to be zipping on by. While Glenn has spent most of Saturday and Sunday remodelling one of our gardens, I've done the usual housework and other jobs. I also spent a couple of hours helping friends of ours do some cleaning in their brand new house which they move into this coming week. Its taken just on 12 months for them to build the house as they had a lot of hold ups due the bad weather here last winter. Its a beautiful home, and the great thing is they are only 3 houses down the street from us!
I've finally got around to taking some progress pics of my current WIPs as well as my Celtic Band Sampler SAL. I didn't get much done on this on Wednesday night, I was feeling a bit "off" so went to bed early.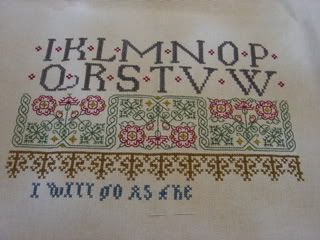 Here's Emmy, or should I say her tail, which I'll be back working on this week. I have received some subsitute beads from Karen of
Dragonfly Dreams in Australia
to use - delicas, how pretty. Thanks Karen, hope your trip to the US goes well. And thanks again to
Carol
, who organised the beads.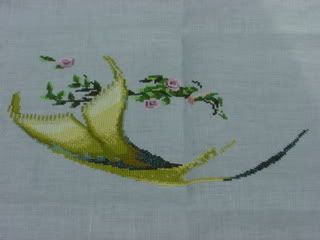 and here is my first progress pic of Noah's Submarine by Stoney Creek, which I started at the beginning of May. I'm stitching this on a piece of white 32ct fabric but I'm not 100% sure if its Lugana or Brittney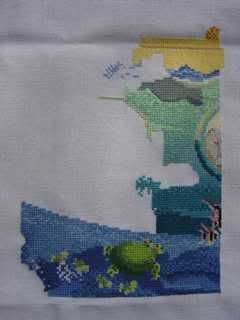 I fnally started my stitched gift for the Seasonal Exchange on Friday. Its a Lizzie Kate design but thats all I can say at the moment incase the intended recipient reads my blog, lol.
They are taking sign ups for the new round so if you're interested in joining please check out the
Seasonal Exchange Board
. Its great fun!
How do you deal a "stitching slump?"
I very rarely have "stitching slumps" but when I do its usually because I'm not enjoying the pattern I'm stitching on, or perhaps feeling a bit tired or unwell. When this happens I'll put my stitching aside and pick up some knitting or read a book instead. I try and stitch a little every day so suffering from withdrawal symtoms when I can't stitch tends to happen to me more often than a stitching slump :)