Its week five (already?) of my Celtic Band Sampler SAL with Dani and Carol. My progress so far: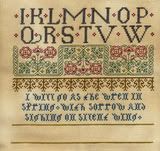 Last night I happily stitched away on this piece for several hours, compared to last week's feeble attempt of about 100 stitches. Until I had stitched the verse , I didn't actually realise what the words said, the picture on the pattern is not very clear at all.
This week's question: What do you like least about stitching?
Umm, off the top of my head, would be how I feel when I'm not able to get my daily fix of stitching! no seriously, I don't think there's anything about cross stitching that I don't like, except when of course, when you get the froggies come to visit like I did the other night. I was so annoyed with myself. Tuesday night was my cross stitch group get together, and I was even so organised that I had time to stitch for an hour at home before going to the group. I was stitching away on Emmy when I realised that I was a whole row out somewhere! Darn it. I sat for ages looking at the pattern, looking at my stitching trying to work out where I was out. In the end I started reverse stitching and had to go back to the start of the previous night's stitching as that was where I had miscounted!! Isn't it amazing how quick the stitches come out, after spending hours putting them in!
25 Most Asked Stitching Questions
I've seen this on a couple of blogs this week so thought I'd give them a go.
1. How old were you when you started cross stitching?
I think I was about 20. A co-worker that stitched during lunchbreaks got me interested and encouraged me to buy my first kit, a birthday card.
2. Who taught you to cross stitch?
No one really but I got lots of tips and advice early on from magazines and then the internet.
3. What inspired you to begin cross stitching?
I've always been a sewer and knitter, being influence by both my grandmothers who were both wonderful craftswomen and my Mum, who did a lot of sewing and knitting for my brother and I when we were children. I guess I was ready to learn something new and was up for a challenge.
4. What has been your most difficult cross stitch piece?
The Mermaid by Teresa Wentzler as it was the first pattern I stitched that used lots of blended threads and colour changes.
5. Do you have friends that stitch?
I have several friends that stitch and two of my co-workers do too. I have also meet some wonderful people that stitch through the internet, some of whom I consider to be my closest friends.
6. What is your favorite stitched piece?
I have two - Midsummer Night's Fairy by Mirabilia, and Random Thoughts by the Drawn Thread.
7. What is your favorite fabric?
32 count Jobelan, and my favourite colour in the range is Waterlily.
8. What is your favorite fiber?
Needlepoint Silks, only I don't have nearly enough in the range, lol.
9. What is your favorite needle?
Piecemaker 28's
10.Do you prefer black & white or colored charts?
Definately black and white.
11. How many Works In Progress do you have at this time?
The Emerald Mermaid - Mirabilia
Noah's Submarine - Stoney Creek
Cetlic Band Sampler - Homespun Samplar
Elisabeth's Stocking - Shepherd's Bush
Hope Tree ornament - M Designs
12. How many UFO's do you have at this time?
would you believe me if I said none?
13. How many cross stitch charts/kits/mags do you own?
Let's put it this way, I'd be a very rich woman if I wasn't addicted to cross stitch, lol.
14. How much fabric do you have in stock at this time?
I have several ziplock bags with pieces of fabric in various sizes and counts in a drawer with fat 1/4's of other hand dyed fabrics. I can't remember the last time I bought some fabric.
15. Where is your favorite place to stitch?
In our lounge, sitting on the couch with my stitching spread out next to me. My basket of current projects sits on the couch permanently!
16. What is your favorite time of day to stitch?
Most days I begin stitching once I've got dinner on, usually any time from 5.30pm onwards. Very rarely at the moment do I get to stitch earlier in the afternoon. On occasion if I wake early in the morning in the weekends and can't go back to sleep, I'll get up and stitch for a bit.
17. How many pieces have you stitched in your lifetime?
Wouldn't have a clue, lol.
18. Do you give your stitched pieces away?
Yes, but only to family and friends that I know appreciate it.
19. How many different fibers do you have in stock at this time?
too many, lol.
DMC, Gentle Art sampler threads (whole collection), Weeks Dye Works (almost the complete set), Kreiniks, Needle Necessities, Six strand Sweets, Caron Collection - watelillies and wildflowes, DMC 5's and 8's, Au ver a Soie's, Needlepoint Silks, etc, etc
20. How many pairs of scissors do you own?
I have several pairs but my favourites are a small pair of gold scissors given to me by my very first stitching email friend, Janet from the US.
21. Do you use stitching enhancers (lights, scroll frames...etc)
My favourite would have to be my qsnaps
.22. How many pieces that have been stitched but not yet framed or finished off in some other way do you have at this time?
Only two at the moment - Lady Bug Roll by Lorri Birmingham, which needs to be made into a needleroll, and Dragonfly Scissor purse by Just Nan.
Belonging to a stitching group who has an annual exhibition and also having a close friend who is a framer, are great incentives for getting my projects framed and "finished".
23. Do you have a craft/stitching room?
Up until recently one of our spare bedrooms subsituted as my craft room. Now I have all my craft and cross stitch in my office that Glenn built earlier this year. I still have some rearranging to do and sorting through old folders of patterns I now know I'll never do. A winter job, lol.
24. Why do you stitch?
Because I love it! I feel relaxed and stress free, and there's nothing better, perfect bliss.
25. What is your most memorable time related to cross stitching?
I have several: the first time I met in person my very dear friend Kath, after corresponding by email with her for some time. Also, one time when there was get together organised for New Zealand stitchers and I got to meet up with several online friends including Debbie from Countrystitch, and
Lisa.