For the past few weeks my small weekend project has been Lorri Birmingham's Lady Bug Roll. My Mum bought this chart for me about three years ago when we were away on holiday together and I'm so pleased to have finally stitched it.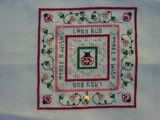 I plan to make it into a needleroll this weekend. Stitched on 28ct Waterlily Jobelan, one of my favourite fabric colours.
Last week,
Dani from Canada
and I started our SAL, the Celtic Band Sampler by Homespun sampler. We pick one day of the week to stitch on it and then report in to one another about our progress. Dani, at long last here is my progress from last week! If you check out Dani 's blog you will see that we've both started in different places - Dani from the top, and I've started in the middle. I'm stitching on 32ct Lugana - Kiwi, from Countrystitch. This week I'm planning to work on it on Wednesday and maybe get this row completed.