Its a public holiday here in New Zealand today to commemorate ANZAC day, the anniversary of the landing at Gallipoli during World War 1 and as well remembering all soliders that have fought in the name of our country. My Grandad served in the 25th Battalion during World War 2, in Egypt and then the Pacific. He passed away several years ago now so on a day like today he is very much in my thoughts.
This afternoon I'm having a "breather" - last night Glenn and I had my four year old niece to stay, lol. She went to bed quite early and didn't get up to 8am which was good. She is a bright wee button, has a very vivid imagination and likes me to read her lots of stories, or another of her favourite things to do is to put a CD on and we dance around the lounge!!
I finished Welcome by Brightneedle on Friday night - quite enjoyed stitching this one with the subtle colours it used.
I'd forgotten about this next one until I downloaded some photos just before, Victorian Violets by the Sweetheart Tree, a bit creased, lol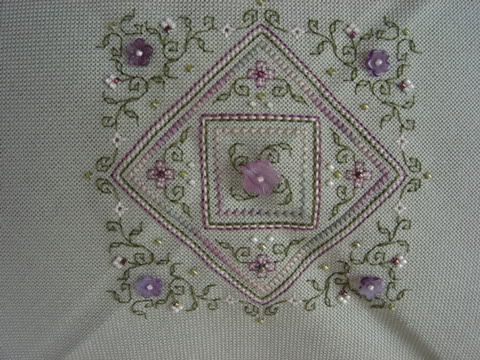 On Saturday night I decided to make a start on the Emerald Mermaid, which I've had kitted up for a few weeks now. I choose Rue Green Belfast to stitch her on after seeing a pic of a completed one on the same fabric on the Mirabilia board.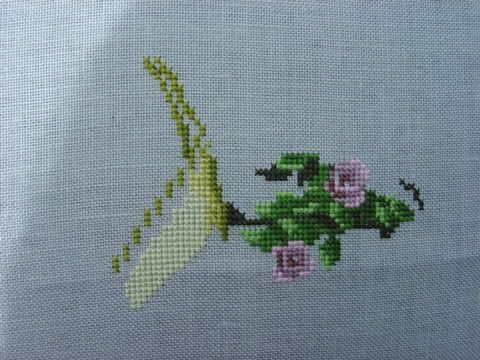 I got some new stash the other day too - I received from my friend
Carol
a little birthday parcel containing some GentleArt Sampler threads and two Kreinik blending filaments, and I went to a recently opened craft store where I found the two Needle Necessities threads for Drawn Thread's
Welcome Spot Sampler
and a bell pull hanger for my Celtic Banner that I completed last year.
This afternoon I plan to "ornamentify", lol, the ornies that I've stitched recently and start on getting the two Shepherd's Bush stockings made up. Glenn has been busy painting the outside walls of our office over the weekend although he's not feeling the best, a bad cold. As long as doesn't pass any germs my way.
Hope you've had a good weekend too.