Ok, a warning, this could become a very long post, lol. I thought I'd spend some time catching up with my blog this afternoon, seems like ages since I wrote any news here but you could say that I've been missing in action!
In the past two weeks I've had two trips away - one to Wellington for the concert, and then at the end of last week I flew to Auckland for a work conference. This was the first time my co-worker and I took the opportunity to fly, usually we drive to the conference venue, and I have to say at least you arrive feeling alot more refreshed than you do after travelling in a car all day.
The conference, organised by the NZ Ministry of Social Development, was for all the north island Disbility Service providers and the focus was on all the new social service strategies that the Government are in the process of developing. This was the first time we had attended a conference with the northern disability services and it was rather different compared to the ones we attend with the southern centres. Alot of the people there have been in the disability sector for 25 - 30 yrs and of course, have seen a lot of changes - and people too, come and go. After a late, and delayed flight, it was 10.30pm Friday night before I got home.
Last week it was my niece's four birthday - I can't believe she is the big four year old now, seems only like yesterday she was a baby. Here is a pic taken of her on her birthday, can you tell she loves having her photo taken, lol.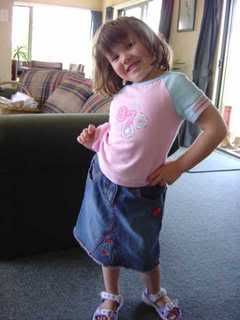 Stitchingwise, I've been making great progress on the Petal Fairy and as of last night, there's only her leg to stitch, put the beads on, and the Kreinik braid in her wings. This pic was taken at the end of last week
I stitched a small Lizzie Kate design over the weekend for a friend who's birthday is coming up next week- I won't mention which one incase she reads this! On Sunday I was able to pick out some frames for some of my finished pieces. My friend Jan was at my stitching group's get together afternoon on Sunday with all her framing supplies. I'm having Drawn Thread's Toccata I and SB's Meadow Hill done, and if they're finished before Jan's next visit in a month, I've semi decided on framing for the Petal Fairy and Real Roses.
Glenn has been going great guns on converting some of our garage into an office space for our computer and for all my craft supplies too, lol. I can't wait to get in there but the trouble is, I have a lot of sorting out to do first! A good excuse to get rid of some unwanted stash and then buy some more new stash, hee hee. Here's a piccie of Glenn painting away last weekend:
On Friday after we both finish work Glenn and I going to Wellington (again!!) with our friends for the weekend. We've been planning this weekend for a few months now and while we are there we're going to see a rugby game, one of the Super 12 series. For my overseas readers, this is an annual competition for rugby teams from NZ, Australia and South Africa. The team we support is the Hurricanes and this weekend they play the Bulls from S.A. Go the Hurricane's!!!
I hope to go to a couple of bridal shops while we're in the city to see what they have in the way of shoes and jewellery. Thats if my friend and I can find the shops of course, lol. This week I picked up the fabric for the girl's bridesmaid dresses so I can get it to the dressmaker now, and we've been looking at styles for wedding invitations, who would have thought there were so many to chose from, lol. Only just over seven months to go now, incredible how fast the time is going!!
Finally I've been to another card making class this week - Easter and Birthday cards
I've been getting very inspired by my new hobby, and very poor too! I have a few birthdays coming up before the end of March so here are the cards I made for my two friends' birthdays