At long last I've finished this Just Nan 2004 Christmas ornament, Holly Noel, my 2nd ornament for 2005. It has been my weekend project for the last few weekends but of course with all the things we've had on lately, there's not alot of weekend stitching being done, lol.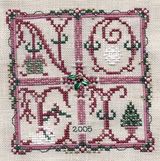 I might try and finish this one into a flat fold after being inspired recently by
Karen's
lovely ones on her blog. I'm not sure what ornie to do next for March - I have plenty on my to do list including the
M Design's Peace, Hope and Love Tree's
but I think I need a quick stitch this month!