My framer friend Jan emailed me a pic of Toccata I today, taken before the glass went in. Looks great, can't wait to see it in person.
The mats are dark green and terracotta, and the frame is the same as the one I had Random Thoughts framed in.
Here is the little needleroll I stitched for my friend Wendy's recent birthday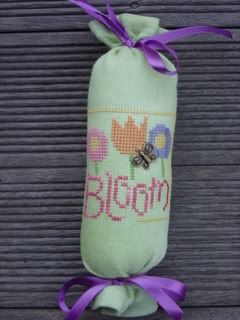 The pattern is
Bloom by Lizzie Kate
, a freebie off the website, and stitched on Kiwi Illusions Kiwifruit.
And just in time for Easter, Lizzie Kate's April Block, also stitched on kiwifruit Kiwi Illusions