Hi there folks, happy new year to you all, I hope its off to a good start for you :) Glenn and I saw the new year in at my parents' house. They had a barbeque,even though we all had on our winter wollies as it was freezing, and several of their friends and our family came. I spoke to a friend from Ireland as well as my uncle in Australia on the phone and received lots of other calls and texts, good to catch up before a new year starts.
As you may have guessed the weather here for the middle of summer hasn't exactly been very tropical as of late. We could have the fire going but since its been covered in Christmas decorations, probably not such a good idea :)
My cousin Donna went home late yesterday afternoon and we've had a good few chill out days. She enjoyed her break as she'd worked very long hours in the weeks leading up to Chistmas. I'll be seeing her again in a few days time when I go and visit for a few days, yup, leaving Glenn to fend for himself, lol, while I take my cousin Kimberley to Palmerston North to do lots of girlie things -movies, eating out and of course, shopping :)
I finished my first project of the year on new year's day. Here is Mermaid's Heart, so pretty and sparkly.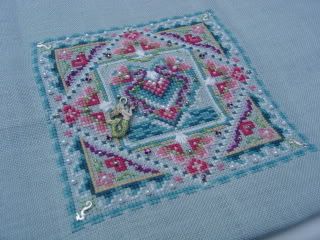 Mermaid's Heart - Just Nan, stitched on 32ct Rue Green Belfast using DMCs.
I'm not sure how I will finish this one but I can see it making a lovely box top.
Kath
and I have several stitchalongs planned this year and yesterday we started our first one, Little House Needlework's City Stitcher Country Stitcher. I'm stitching mine on Silkweaver's Purey Primitive linen.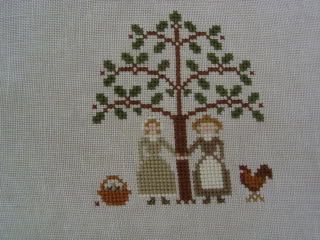 Happy stitching :)