Way, way back earlier in the year
Karen
and I decided to SAL Indigo Rose's newly released Peekaboo pincushion. Karen organised the charts and some of the threads for us, and I found the fabric and the other thread. But due to our other stitching committments over the pas t few months we decided to wait until this month to get started. At long last I'm underway so here is my progress from last night's few hours of stitching: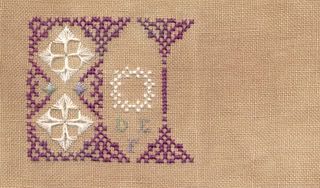 the top white motif is not quite right so I'll restitch that one again.
We're stitching this on 32ct Lakeside Linen meadow rue, and this is the first time I've used Lake side linen, definately not my last, lol. Can anyone recommend any colours in this range that would be good to have on hand?
Here's a pic of what our little pincushion will look like when finished
Looking forward to seeing your first progress pic Karen :)
Last week I finished the last of my Christmas gift stitching. This cute Brittercup Design Britty Kitty is for my MIL Heather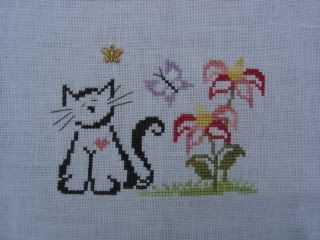 and the very last of the 2006 ornaments, La D Da's Christmas Heart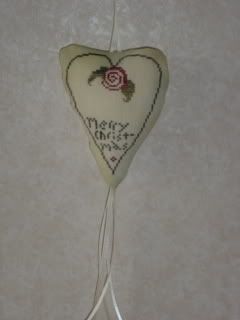 Over the weekend I had another new start, Evergreen by Blackbird Designs. I'm really loving stitching this piece.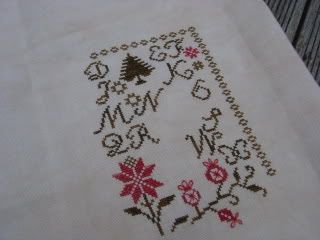 Lisa
has just finished this design too, and its quite funny as neither of us knew the other was intending to stitch it. We quite often do this, lol.
Right now as I write this post, Glenn is flying to Auckland for the day for work. Our business has been chosen to carry out a huge motel joinery refit up there in the new year so Glenn has gone to spend the day getting all the details sorted out and will be home late tonight.
Thanks heaps for all the lovely words about my recent finishing, you're all just great!!