I've got quite a few photos to share today. First up, a small finish, Season of Rest by Little House Needleworks.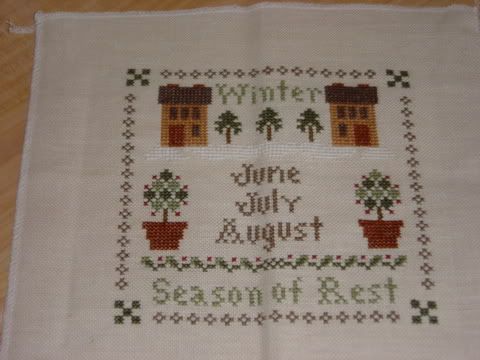 stitched on 28ct cream Quaker and I changed the months to suit our season.
I have received some great mail over the past few days. From
Anne
I received Jeanette Douglas' Summer at the Ocean chart, a skein of Sugarplum GAST and a beautiful purse all the way from Hong Kong! I was absolutely chuffed with it, especially since Anne had picked it in my favourite colour. Thanks again Anne and can't wait to "meet" you soon!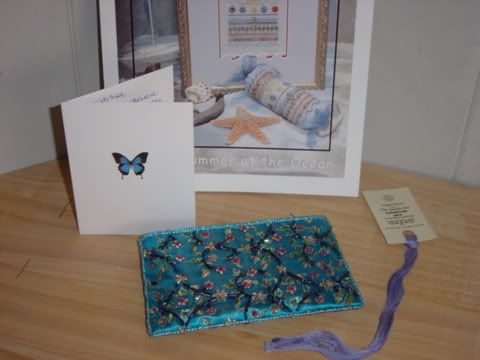 Then from
Nicki
, I received the Robin's Nest needleroll exchange. Both Nicki and I think this is really funny as Nicki also had my name for the recent SBEBB house exchange. Nicki stitched for me a one of a kind needleroll, using Chatelaine's Alpine Garden as the inspiration (I hope thats right Nicki). I think its just gorgeous! There was also a needleroll kit from Nicki's LNS included, and all wrapped up in the prettiest butterfly paper. Thanks again Nicki!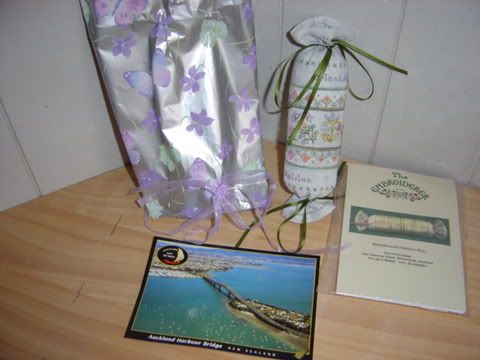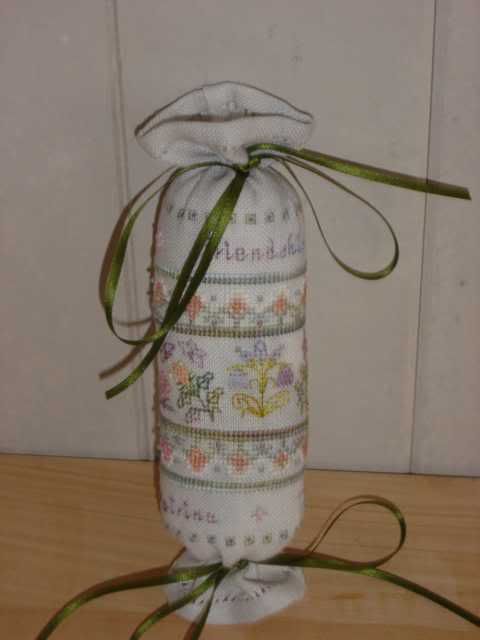 I've heard from
Cindy
that my redwork exchange has arrived in Singapore so I can reveal what I stitched for Cindy, Country French Apple by JBW Designs, a real fun design to stitch, and I also made this into a button pillow.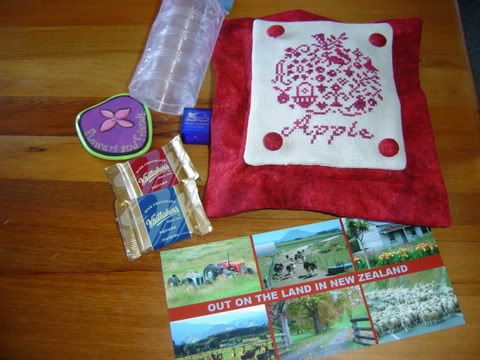 Cathy
has received the Robin Nests needleroll exchange I sent. This could be any needleroll design and I chose Butterflies and Hearts by Lorri Birningham, a design that I've been wanting to try out for ages. The verse on it reads " The joy of my heart is the work of my hands".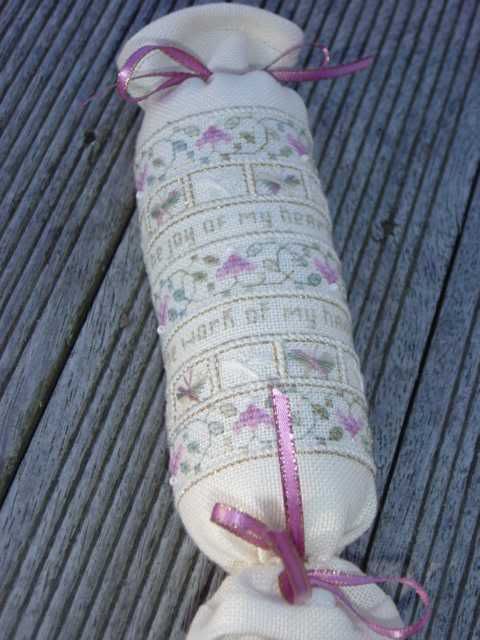 I'd definately like to stitch this design again :)
Its almost the weekend here and after a pretty full on week, I'm ready for some R & R, lol. Tonight Glenn and I, with our business partners/friends Gail and Brent, are heading out of town for the night. We have to visit our accountant, and then a joinery firm we deal with are taking us all out dinner. We decided to treat ourselves to a night in a motel rather than drive home.
I'll be back tomorrow so will post a list sometime of everyone participating in the needleroll SAL this weekend. Catch you later and have fun!