A big thanks to all of you who left comments about my previous post - you are all just wonderful and your messages are all so encouraging. I see that I've got some new friends stopping by so I'll be sure to check out your blogs sometime real soon :)
I've been thinking that after such a positive response from you all, I might try and put together some instructions for the buttoned pillows - I didn't follow any particular set of instructions myself but have come up with an easy method after a bit of practise lately, lol :) and its easy to adapt to whatever size pillow you wish to make.
Now onto some photos - my camera had bit of a malfunction the other day, I could have cried, but all is well now after a visit to the local photo processing lab. I'm not entirely sure what was wrong but what ever the lady did its now working completely fine, whew.
So here's the wedding sampler, To Have and to Hold by the Sweetheart Tree.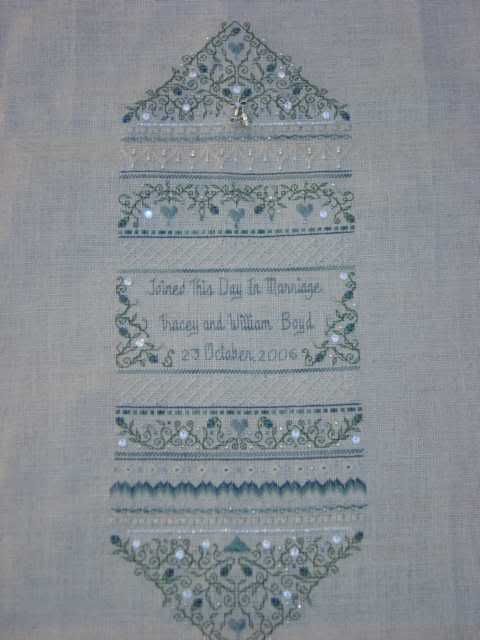 the light wasn't so good last night so it doesn't show up in this photo how sparkly it is. This is for good friends of ours, Tracey and William, getting married 23rd October, the day after mine and Glenn's first wedding anniversary. Both of my friends are stitchers and they know I'm stitching a wedding sampler for them but they have no idea which design I have chosen. I hope they get a pleasant surprise when they see my choice as they are both big Sweetheart Tree fans too. This is now off to my friend J to be framed :)
I received a lovely parcel from
Kath
the other day which contained the ornament Kath had stitched for this month's exchange: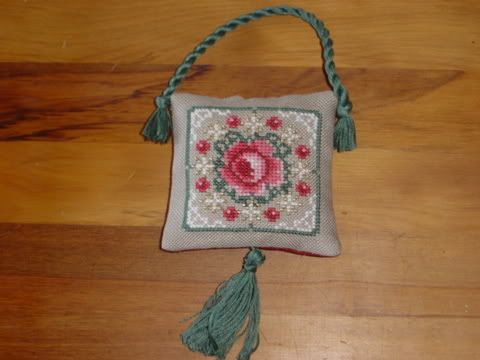 Isn't it gorgeous, and Kath always does such a beautiful job with her finishing. The parcel also contained a wee surprise for me, a "just because" gift from Kath: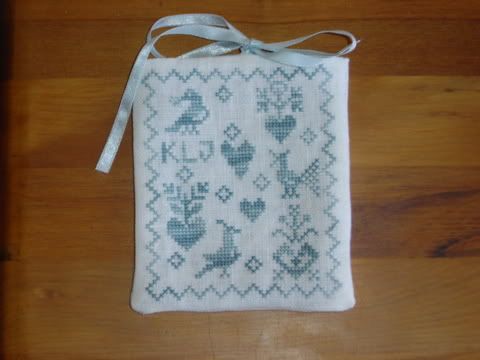 and here's the back,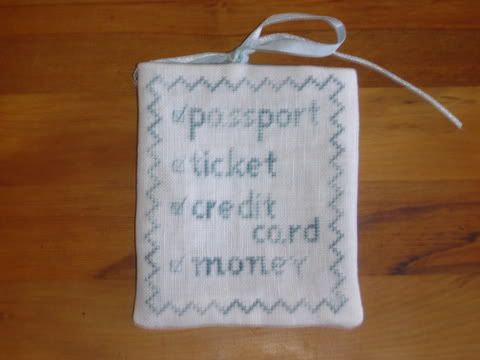 aren't I a lucky girl - a little travel pocket, quite appropriate for my up and coming trip to Australia, and Kath has used the most loveliest thread in shades of my favourite colour :) Thanks again Kath!
Last night I put the final stitches into an autumn themed piece for an exchange early next month on the SBEBB. Its a cute design, I might just have to restitch it again one day. I also got a couple of exchanges all parcelled up to go in the post on Friday for the Robin Nest needleroll exchange and the SBEBB redwork exchange. I feel quite onto it this week, lol.
catch up again soon!