Monday again already, where did the last few days go I wonder! At the end of last week I went out of town for a few days with my co-workerand friend Wendy to attend a work training course in Palmerston North. The workshop's topic was "Risk Proof Your Volunteer Programme", all about Risk Management for Not-for-Profit organisations. Talk about food for thought - very interesting and its now created a whole lot more work for me, oh well, nevermind, lol.
Wendy and I decided to stay over in Palmerston on Thursday night so we could do a bit of shopping the next day and so we could also catch up with my aunt and uncle, Dorrie and Ivan, and my cousin Donna. We all went out to dinner at a fairly new restaurant, which was delicious and then back to our motel for coffee. We headed out quite early on Friday to look at a few shops and then had lunch with Dorrie and Donna, leaving to head back home about 2.30pm.
On Saturday afternoon I took Zoe to another cousin's, Brooke's 4th birthday party. This was at my aunt and uncle's farm, and the children were in their element running around the huge gardens and playing with the pet lambs amongst the daffodils. Good signs that spring is just around the corner now :)
Sunday I spent most of the morning pottering around the house, catching up with laundry and ironing, while Glenn continued to do some more work in our bathroom. Its looking great so I'll have to get in there and take some more pics. Then we received a visit from
Lisa
and her daughter Rhiannon, who'd been in the area at a gymnastics competition and were on their way home. Lisa had bought some lovely fabrics for more bags, I think she's addicted to them now, lol, and we showed each other our current wips. Lisa also checked out my "stash house", aka my office, lol. Great to see you Lisa and to catch up once again.
I spent a bit of time late in the afternoon working on some finishing, and hope to have some pics to share sometime in the next few days of Alphabet Wreath and the LHN ornie I finished recently made into buttoned pillows. I also have been putting together some lavender bags for a friend and just need to pick up some more ribbon to complete them.
Last week I sent off to
Karen
the fabric for a SAL we are going to do sometime,
Indigo Rose's Peekaboo Pin cushion
, and as a small thankyou for sending me the pattern, and waiting so patiently for the fabric, I stitched her this small Elizabeths Design pillow, To a Dear Stitcher, finished in the same way and using the same fabric as the one I made recently for
Carol
.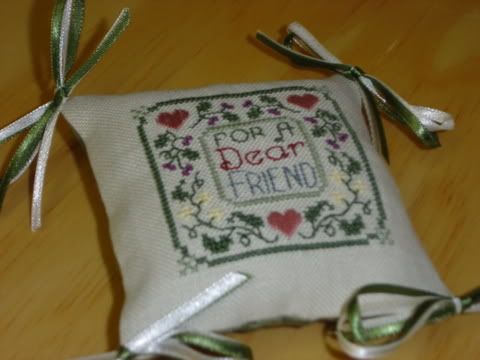 In other stitching news I'm pleased to report that I've been making great progress on the wedding sampler - the colours are so pretty and that makes up for all the back stitching! I've also managed a few more hours on the Christmas Elf fairy and have reached over half way on a redwork exchange piece for the SBEBB. Will try to have some progress photos tomorrow of the sampler and fairy.
Hope you're all good!