Thank you everyone for the kinds words about my Stitching Leporello, I really appreciate your encouragement :)
I tried to write this post yesterday but "poof" it vanished into cyberspace somewhere!! I have had two finishes this week, firstly, a small friendship design for my last Seasonal exchange with Kelly. Pic to come at a later date sometime. And also Coffee Menu, which I started way back on my birthday in April, and have stitched on a little here and there since.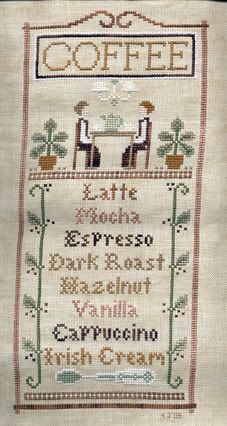 Coffee Menu - Little House Needleworks, stitched on 32ct vintage Country Mocha belfast
.
I'm on bit of a LHN fix at the moment, and once I finished Coffee Menu the other night I started this month's kiwi ornie SAl choice, the Little House Needleworks' design in last year's JCS mag. I've also got two of the Seasonal pillows,
Season of Rest
and
Season of Hope
kitted, all ready to start over the next few weeks, although I'll have to change the designs slightly to fit in with our seasons here in the southern hemisphere. My latest order from Stitching Bits and Bobs, when it arrives, contains several LHN charts, including
the Bookshelf
which I'll just have to fit in my stitching schedule somewhere :) Earlier in the week I received the latest Just Cross Stitch magazine from
Carol
, that features Country Cottage Needlework and has a pattern for a lovely cottage garden design, another must stitch.
My cousin Donna arrives today at lunchtime to spend a few days with Glenn and I, so I might not be around for a few days. I'm not sure if there'll be much stitching going on but I've got several dvd's put aside for us to watch. Oh yes, last night a friend and I went to see the latest Pirates of the Carribean movie which we thoroughly enjoyed, even the parts that were a bit icky! I'm planning to take my niece Zoe to see "Over the Hedge" on Sunday afternoon and would also really like to see "Superman Returns", I'm a superman fan from way back, lol.
Enjoy the rest of your week :)