Glenn and I arrived home just after 5pm Sunday afternoon after a wonderful weekend with Kath, Kevin and Anna. We both had a great time, it was a very chilled out weekend, just what we all needed I think.
We headed off from home late Friday after Glenn finished work and arrived at Kath and Kevin's 2 1/2 hours later. It was a good drive, and we made good time. And I didn't get us lost finding their house! I'd been there before but only in the daylight, lol. Kath had cooked us a lovely dinner of lasagne and salad, my favourite. We had a tour around their home, its just beautiful and of course, checked out the kitchen :) Glenn was most impressed with the lounge size and Kev's big tv, he was in element.
Kath and I exchanged our ornaments, I had stitched for Kath Christmas Ribbons by Imaginating Inc, from the 1998 JCS magazine, and Kath stitched a Little House Needleworks one for me, from the 2004 issue.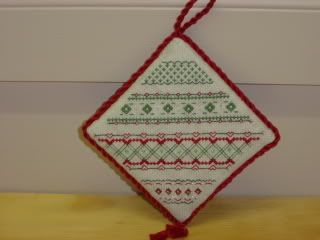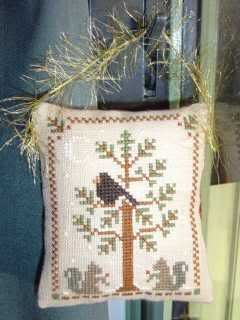 Then we surprised each other with a little stitched gift (we always do this when we get together) Kath had stitched a Shepherds Bush exclusive needleroll for me, Martha's Vineyard, which is just exquisite, my favourite colours and everything, and I gave Kath my very first stitched needlebook with a Little House Needleworks design. I just had to stitch this one for sheepie-mad Kath!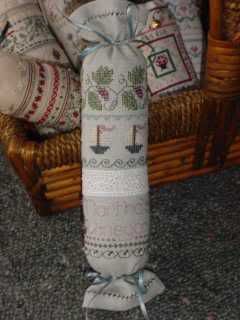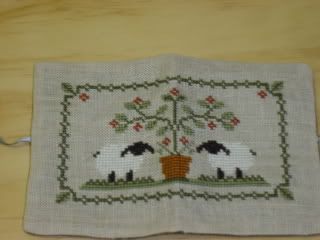 We spent the rest of Friday night, chatting and catching up over a few glasses of wine while the boys watched a rubgy game. On Saturday after a leisurely breakfast, Kath and I headed into town to pick up a few things from the supermarket. We arrived back to find our stitching friend Pat waiting for us and it wasn't too long before Lisa arrived. After a yummy lunch, we sat down for our stitching session, only between showing off current Wips, recent finishes and new stash, there wasn't much time left before Pat had to head home. I love getting together with these ladies, I just wish I lived alot closer so I could more often. These sessions are also very theraputic too, we get alot of issues resolved :) I guess its the friendship and the passion of stitching that gives us that common bond. Lisa stayed on for a few more hours, so we actually did get a few stitches done :)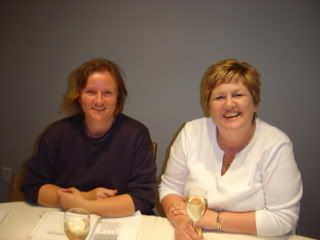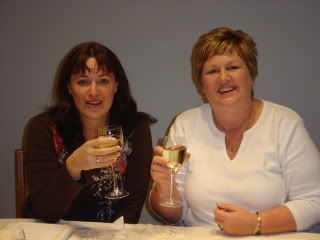 Lisa was working on the English Garden Pocket which she had now finished, it is gorgeous "in real life", Kath was stitching on her friendship piece for the SBEBB and I put a few stitches in the Shamrock Roll for the needleroll SAL. (quite appropriate as the All Blacks rugby team played the Irish team on Saturday night, who are touring NZ at the moment).
Saturday night for dinner we picked up chinese, and for desert Kath had made a scrummy orange cake with orange marmalade cream, and then it was back to stitching, lol, until our eyes got too weary. Sunday morning rolled around too quickly, and while the guys watched a dvd Kath and I got back to our stitching. Kath and I also worked on changing Kath's blog a little. Before we knew it, it was time to pack the car up and head home again. It was a lovely weekend, and Kath is such a fabulous cook so we were well looked after. Glenn and Kevin are like two peas in a pod, same interests, - tv, rugby and beer! I snapped this photo of the two of them, chilling out watching a dvd. Sums it up really, lol.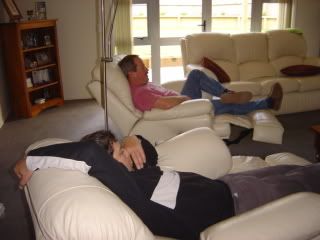 While watching Dancing with the Stars last night I finished the Shamrock needleroll. It was a lovely stitch, even though the back stitching of the little shamrocks got me a bit confused at times. I'm going to make this up tonight. How did everyone else do on their needleroll? I'm not sure who was participating this month as I didn't get time to post a reminder to everyone.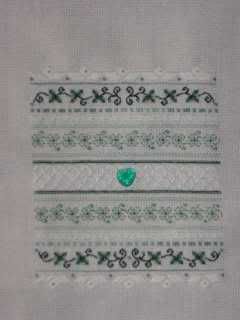 This week is going to be the week of the smaller wips, Wandering Shepherd and Coffee Menu, and I'd like to start Part 2 of the Stitching Leporello on Thursday. Here's Part 1 all stitched, quite pretty and sparkly.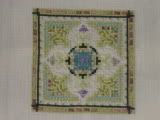 Its my lovely MIL Heather's birthday today so Glenn and I are going to Heather and Cliffs for dinner later. Hope you've had a good weekend too :)