I didn't set any goals for May but it was certainly a very stitchey month :)
"Finishes" included:
Lizzie Kate - Baby Sampler
Sweetheart Tree - Strawberry Patch Roll
Jeanette Douglas - Love Ornament
Paw Printings - Golden Garland
SBEBB Friendship exchange for
Christine
Bent Creek - I Do
Drawn Thread - 12 Houses
Christmas Ornament for June exchange for Kath
and stitching on my current WIPs continued:
Part 1 of the Stitching Leporello
Coffee Menu -LHN
Gift for friends's birthday
So for June my goals will be:
catch up on Stitching Leporello - 3rd part has just been released but its only a small piece this month,
Kiwi Ornie SAL - Charlottle's Web Peace ornament
Biscornu exchange -Legacy BB
Needleroll SAL - 2nd weekend of June... changed my original choice for June to the Shamrock needleroll by Sweetheart Tree.
Seasonal exchange piece for Kelly
SBEBB House themed exchange
finish friend's birthday gift
and lastly ,to start Mirabilia's Titania and PR's A Christmas Blessing Angel.
I heard that the 8sided pincushion that I stitched for the SBEBB exchange has arrived to
Gosia
in Germany so I can share a pic now. this is Ladybug Lament by the Sweetheart Tree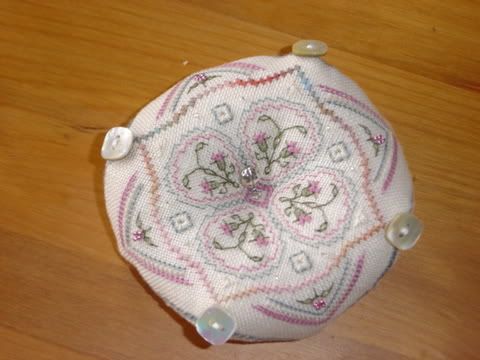 and a side view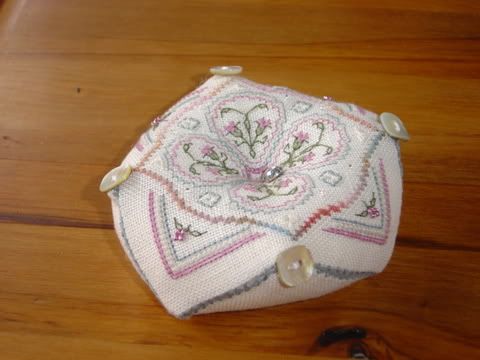 I forgot to take a pic of the other godies I sent to Gosia :)
It must be time for some lunch and then I'm going to make a start on the monthly invoices for our business. Enjoy your weekend!