Hi folks, apologies for not being around much over the past week or so, its been a bit crazy around here. So I've got lots of blog and BB's catching up to do. At the end of last week I was out of town for a work conference for two days, which left me feeling rather drained :) Glenn's dad hasn't been too well either and spent a few days in hospital for tests. He's home now, not 100% but at least he's home.
I spent most of the recent weekend finishing and ornamentifying all my recent finishes for my stitching groups annual exhibition this coming weekend, and any other spare time was spent organising accounts, etc for our business in order to get them off to the accountant. Work itself has been rather full on too- with our bi-annual service contract up for renewal I've been preparing our service proposal and budgets this past week.
I've got some happy dances to share :) First up, a confession to the Needleroll SAL ladies, I decided to go ahead and finish the Blueberry Roll even though the next SAL isn't until next weekend - I'm sure no one will mind, lol.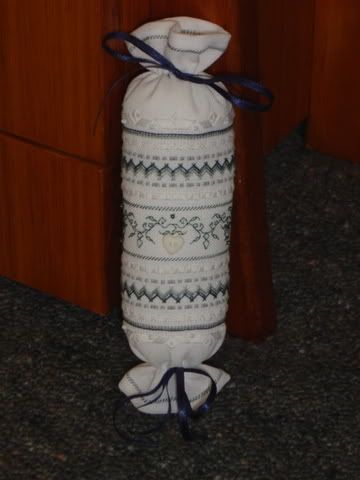 I'm already looking forward to our next SAL weekend and have decided to stitch the Sweetheart Tree's Strawberry Patch roll. What's everyone else going to work on?
Next up is Drawn Thread's Spot of Spring, which has been my Thursday project for the past few weeks, all stitched and finished into a little pillow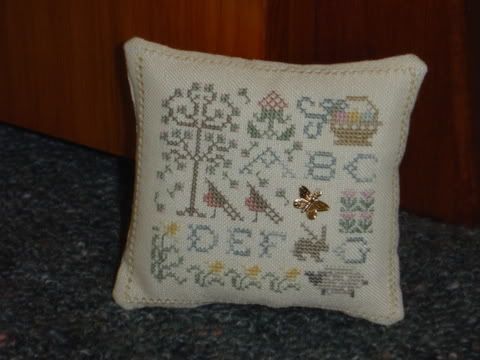 Stitched on 36ct cream Edinborough linen.
Here's Spot of Summer, all made up too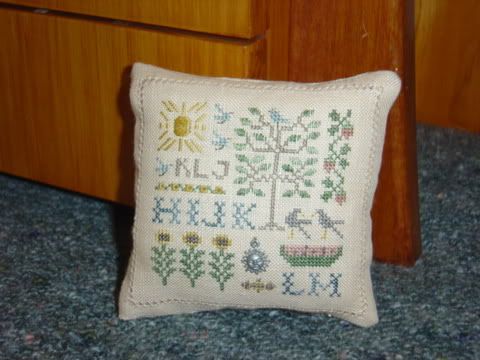 I was going to start
Summer into Autumn
this Thursday, especially after seeing
Isabelle's
lovely recent finish, but instead I've decided to start
Twelve Houses
- I spotted a model of this one at Heirlooms last weekend which has tempted me more than Summer into Autumn, lol.
The next few days are going to be full on as we get everything organised for the exhibition which opens on Friday and runs through until Sunday. I'll be sure to take lots of photos to share with you after the weekend as we've got some beautiful work on display this year, and guess what, we have some yummy fabrics from Linda at
Countrystitch
to fondle over the weekend too, lol.
I think thats me for today, if I get some spare time tomorrow I'll post some wip pics of LHN's Coffee Menu and another recent start, Lizzie Kate's Baby Sampler which I'm stitching as a gift for a cousin's new baby.
Enjoy your day :)