Hello everyone. I hope you had a wonderful weekend :) Thank you for all the great comments about the Mermaids, they mean alot to me. I was so happy with how they turned out, especially after all the beading which I thought would never end, lol.
On Saturday I went out for the day with a bunch of friends from my stitching group to visit a few of the LNS's around our area. Our first stop was the
Quilter's Cabin
, which was just amazing, with all the different fabrics it was quite hard to make a selection. I could have wandered around in there all day, each time seeing a different fabric or a wall hanging, or pattern that I hadn't noticed before. Then it was onto the next LNS, where I found a few Prairie Schooler charts in the bargin bin. At lunchtime we all went our separate ways to look a few shops in Napier before heading to another LnS. I was very refrained at this one only buying some beading thread :) The last of our stops for the day was at Heirlooms. Heirlooms operates from a beautiful old villa that is currently being restored. I was in cross stitch heaven there, it was just divine and I only wish I had thought to take my camera so I could have shared some photos. Sherelyn, the owner, also has a room set aside for all things Christmas, just beautiful. I could have stayed there all day and all night.
Here's all my new goodies!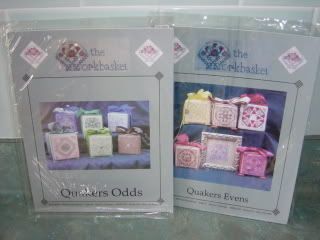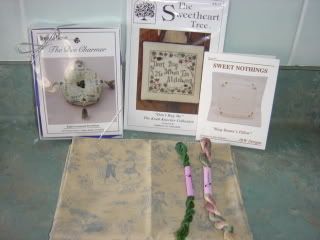 The Workbasket - Quaker Odds and Quaker EvensIndigo Rose - the BeecharmerSweetheart Tree - Don't Bug me when I'm stitchingJBW Designs - Ring Pillow chartGAST Threads - latest releasesPrairie Schooler - Farm Fresh, two Santa chartsNN threads - British Green and Passions
Everyone thorougly enjoyed their day out, especially since it was a warm sunny day in Napier.
I have had a couple of small finishes over the weekend but two are for exchanges - an ornament and a biscornu, so I won't be able to share pics until another time. This is my ornament for April, Christmas Greetings by Elizabeth Designs.