I've been wanting to update my blog look forever and after searching around for a new template, I've decided to go with this one from Pannasmontata, especially after admiring both Karen's and Andrea's .
"I Do" is now finished, and I'm quite pleased with how its turned out. I had to do a bit of tweaking to get the two dates to fit in. Its a very quick stitch so if you are looking for a simple wedding sampler to stitch in a short time, I'd highly recommend this one.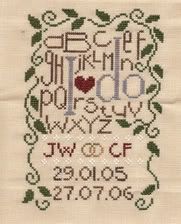 A lovely parcel arrived from
Pat
for the SBEBB 8 sided pincushion exchange. Pat has stitched a different design on both sides of the biscornu. Thank you Pat, it really made my day to find your parcel in the mail box.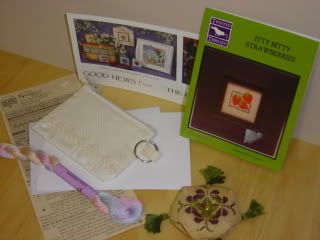 Gee, Thursdays seem to come around fast so tonight I'll be stitching on 12 Houses.
Hope you are having a happy week.