At long last I actually have some progress to share on the
Blueberry Needleroll
for the SAL:)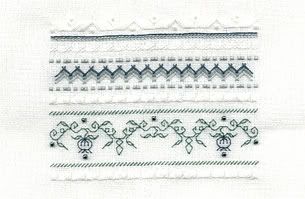 I just love this, especially since I'm using my favourite shades of DMC - 924, 926 and 927. So until the 2nd weekend of May, this has gone back into my stitching basket.
Next up is the little amount I stitched on a new start on Sunday, Little House Needlework's
Coffee Menu
, my birthday treat to myself, lol. I've been wanting to stitch this for absolutely ages, especially since seeing
Bea's
finish recently: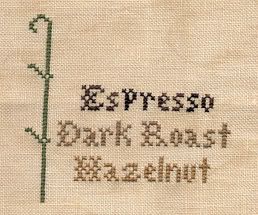 Stitched on 32ct Zweigart Vintage Country Mocha linen.
Our postie girl must be wondering what's going on this week after delivering parcels from around New Zealand, the US, the Netherlands and England as I also received the chart and threads from
Karen
yesterday for the Indigo Rose SAL we're intending to do some time together for the
Peekaboo pincushion
. I can't wait to start this pretty one now Karen :)
Its a long weekend for the Easter holiday coming up here - yay, so hopefully there will lots of stitching going on. I'm going to start Spring Spot for the DT SAL, concentrate on getting the beading finished on the Mermaids, and whatever else takes my fancy :)
Catch up again soon!