I don't think I've answered a Stitching Blogger's Question of the week for about six months! This week's really appealed to me:
With the exception of your online stitching friends, do you have any other stitching buddies?
Yes, several years ago a friend of mine and I set up a local cross stitch group as a fundraiser for my work - our group uses my work facilities for its get togethers twice a month - on the 2nd Sunday afternoon and the last Tuesday evening. We have about 30 local people that receive a bi monthly newsletter that I put together and usually get 6-12 at each get together. At these meetings we all bring along our current project to work on, have show and tell with any new stash, and have a cuppa and usually something yummy for afternoon tea or supper. In May of each year we organise an exhibition of our work and each year it seems to be getting bigger and bigger, and more popular especially with out of town people.
also, two of my co-workers are great "crafty" people - they stitch, as well as do patchwork and also scrapbooking and card making. You can imagine what we talk about during our morning tea break, lol. I also have several other very close friends that stitch as well and love to get together when possible for a stitchey afternoon. Another of my good friends has a framing business (she stitches too) which is very handy, lol.
I got some new patterns in the mail the other day: M Designs letters S&T, O&P, I&J (yay, I can start the wedding sampler now), and Little House Needleworks Season of Rest which I really liked, only I've have to change the months on it to suit our winter months. I also got some more Piecemaker 28's and several mesh bags.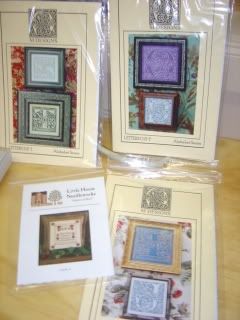 Finally for today, a small finish from late Friday night - Prairie Schooler's Partridge and Pears 2005 ornament.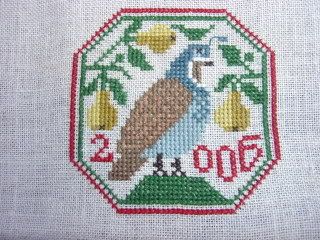 Stitched on 32ct natural belfast, using DMC threads.